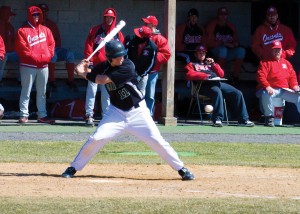 The Oswego State baseball team looks to start fresh in 2012. The Lakers are under the helm of first-year head coach Scott Landers, who inherits a team that finished last season at 19-20 and graduated just two seniors from a year ago. Both the new coach and the players are confident that this season will be a successful one.
"It's a whole new experience; it is nice to have some new faces," senior captain Kris Prikazsky said. "I like where coach Landers is going with the program. He works to not just prepare us for now but for life outside of the game and the real world."
The players are optimistic that Landers has them headed in the right direction and that this season is going to be a success.
"We are all excited to play, it's a fresh start and a new style of baseball," junior captain Jon Stevens said. "Coach wants us to have fun, hustle, work hard and of course, win."
Although the Lakers finished last season with a 19-20 overall mark, they struggled in SUNYAC competition, going just 1-17. The one win did come against eventual conference champion SUNY Cortland, who is also ranked No. 5 in the d3baseball.com preseason poll.
"We want to try and control the game, if we do the basics right we can be in every game," Stevens said.
The Lakers look to finish off some more games that in the past season they let slip away. Six of their conference losses were by three runs or less.
Prikazsky and Stevens will both be key players for the Lakers. Stevens finished last season with a record of 4-3 and an ERA of 3.79. Prikazsky finished second on the team in hitting with a .375 average in 16 starts.
Other notable returners include sophomore Scott Buniak who led the team with 41 hits last season and posted a .331 average. Junior outfielder Ed Charles led the team with 14 stolen bases and also recorded the most at-bats and recorded a .283 average. Junior Andrew Lazzaro led the team in hitting with a .381 average in limited action last season due to injury.
"Hitting is our strength," Landers said. "We have balance with some power and speed and good depth to our lineup."
The Lakers also return several key performers from their 2011 pitching staff. Junior Dan Erne led the staff in both ERA at 3.27, and starts with eight. He also finished half of his starts with four complete games. Senior Mark Schaper is also back after starting eight games last season. He posted a record of 1-7 with an ERA of 4.18. Senior Brady Farkas started seven games for the Lakers last season going 1-2 with a 3.63 ERA.
Landers is looking for big time performances from everybody on his team.
"I am expecting a lot from everyone," Landers said. "Everyone is going to have a roll of some sort."
Landers is also looking to preach teamwork and working as a unit to his players.
"Playing as a team, not as individuals is key," he said. "It doesn't matter whether you are the No. 1 or No. 14 pitcher… no one player is bigger than the team."
The Lakers open their season March 2-4 at the Old Westbury Tournament before making a trip to Florida for seven games. These trips are a key part to getting the season started in the right way.
"We have to get some details ironed out," Landers said. "For me, it gives me an opportunity before conference play to see who needs to be on the field."
"It's nice to get outside and see what we have done so far and put it to the test," Prikazsky said.
"The trips are good for us for team bonding," Stevens said. "It's good to see how everybody reacts."
The Lakers open up their home schedule on March 24 with a doubleheader against SUNYIT and begin conference play with a trip to Oneonta on March 30 to take on the Red Dragons.