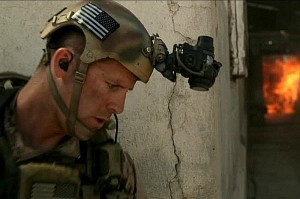 The new military thriller, "Act Of Valor" can be summarized in one word: Propaganda. Directed by former stunt men Mike McCoy and Scott Wagh, the movie supplies impressive action sequences, but fails in every way needed to make a memorable narrative.
"Act Of Valor" follows a team of Navy SEALs as they embark on a mission to rescue a CIA agent to later uncover a bigger terrorist plot. Based on a true story, the movie gives a clear and often heart-warming picture of those who sacrifice their lives to protect our country. The problem was that the movie became almost too literal; it was painfully obvious that it was created to glorify the military.
Actual Navy SEALs portrayed the Navy SEALs in "Act Of Valor." Indeed, this gave the movie an advantage in the stunningly realistic action sequences. The very few actors with important characters to play were the two villains Abu Shabal (Jason Cottle, "The Wedding Singer") and Christo (Alex Veadov, "Drag Me To Hell"). Roselyn Sanchez ("The Game lLan") plays CIA agent Lisa Rosales, who gets captured and tortured after getting close to figuring out Shabal's and Christo's plot.
When the Navy SEALs rescue Morales they also began to slowly uncover the plot to attack several big cities of the United States with suicide bombers; then led to the race against the ruthless terrorists out to get innocent Americans. The small amount of acting in the movie was reasonable but underdeveloped. Sanchez was in the movie for about 20 minutes. Although the scenes where she was tortured were gruesome, her character was cut too soon. The terrorists, Shabal and Christo were not developed sufficiently enough to be seen as the threat to the Americans that the movie was trying to convey.
"Act Of Valor" had very little dialogue, which at times made the movie boring and tedious. Most of the dialogue in the movie was military language, which was confusing. Because of this, the few jokes here and there did not resonate. It lacked a strong plot since much of the movie was devoted to the fight scenes and an annoying voiceover. The voiceover was undeniably there to provide a feel for these Navy SEALs trying to save the country but it did not work. It was unnecessary and at times confusing as it deviated from the plot of the movie.
It was hard to relate to these characters. It worshipped war in a disgusting way that did not allow the real emotion and sacrifice of the armed forces to come through. "Act Of Valor" is a great recruitment video but as a feature film it proves that explosions and guns do not hold their ground in cinema.