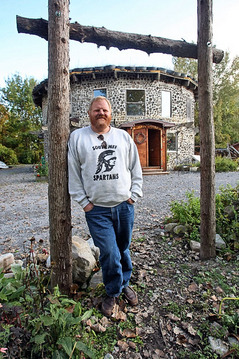 The developer of his own sustainable community will be visiting Oswego State after spring break.
Jim Juczak has become an expert in sustainable living, by developing a living community called Woodhenge.
"He most notably made this off-grid community called Woodhenge," graduate student Ted Levine, an organizer for the speech, said. "They make their own energy; they raise and harvest a lot of their own food. They barter a lot to do some very interesting things."
Juczak will be in 105 Lanigan Hall on Tuesday, March 20, at 7 p.m.
"He has an interesting take on the whole concept of living sustainable," Levine said. "One of his biggest tag lines is that he doesn't do it for the environment. He does it because he's cheap. And I think a lot of college students can benefit from the ideas of living cheaply."