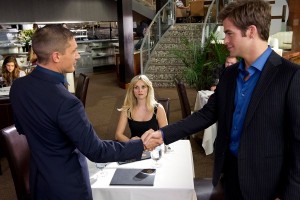 The purpose of an action comedy is plain and simple, to supply stunning action sequences and a few natural good laughs. "This Means War" provided that and an extra pinch of romance.
Directed by Joseph McGinty Nichol (TV's "Supernatural"), "This Means War" has numerous cheesy, but adorable parts following the premise of two spies falling for the same girl. Best friends, FDR (Chris Pine, "Star Trek") and Tuck (Tom Hardy,"Warrior") put their friendship aside when they discover that they are both dating the same woman and begin a competition to win her heart.
Reese Witherspoon ("Water for Elephants") plays the leading female role of Lauren, a product critic who follows her friend's advice and dates two men at the same time. What she does not know about is the roller coaster that these two men will put her through as they outdo all of their previous dates. FDR and Tuck use their CIA connections to cater their dates with her to her preferences, leaving
Lauren confused when it comes down to picking the right guy. Lauren's over the top best friend is played by comedian Chelsea Handler (TV's "Chelsea Lately") and she adds great moments and laughs to the story. Hardy and Pine both have amazing chemistry as best friends fighting over a toy which they end up falling in love with. They also collaborate well with Witherspoon.
"This Means War" was successful with the characters of FDR and Tuck because they are different. Tuck is the sensitive, romantic lover and FDR is the fearless bad boy. It gives the audience the chance to pick their favorites and to better relate to these unlikely characters.
In a movie with this type of premise, the leading lady would usually depart from both men, but Lauren makes a choice between the two, causing either surprise or approval from the audience.
"This Means War" ended abruptly and had a weak subplot. FDR and Tuck were dealing with a ruthless criminal that was out to kill them and ultimately came down to a guns and glory kind of a fight to save the damsel in distress, which made for a predictable, but not too terrible scene.
Witherspoon gave a good performance, while Hardy and Pine will have girls swooning in their theater chairs.