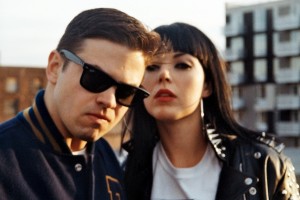 When a band arrives on the music scene with a totally original sound, one of two things may happen: they find ways to explore that sound and carve out new musical territory or they turn out to be one-trick ponies whose novelty wears off after a couple of albums. Sleigh Bells, the Brooklyn duo consisting of singer Alexis Krauss and guitarist Derek Miller, are a prime example of the band on the scene with the original sound. They are the purveyors of "noise-pop;" their 2010 debut "Treats" was a unique blend of Krauss' sugar-sweet pop vocals, enormous drum beats and Miller's ferocious, loud guitar work. They sounded like the unholy union of the fuzzed-out dreaminess of My Bloody Valentine and the arena-shaking grandeur of a band like Queen.
The duo's sophomore effort, "Reign of Terror," does not break a ton of new ground in terms of their music, but it is still a solid follow-up that shows Sleigh Bells are ready to introduce a few new elements into the mix.
The album starts with "True Shred Guitar," a brief intro during which Krauss orders a simulated crowd to get "down on their knees." It then leads into "Born to Lose," which carries all of the group's hallmarks; a simple yet intense guitar riff from Miller, a forceful drum machine beat and Krauss' ethereal singing. Her vocal range is very high to begin with, and the added effects make it difficult to make out a lot of lyrics, which will never be acknowledged for their profundity. The joyous intensity of Sleigh Bells' music makes up for lyrical shortcomings. The pep-rally march of "Crush" adds hand claps to the high-intensity atmosphere the album has at the beginning, but the biggest surprise comes with "End of the Line," which is a break-up ballad, of all things. The song's refrain of "It didn't have to be this way," is not exactly groundbreaking in the song-writing department, but it shows that Krauss and Miller are not afraid to expand their musical repertoire and let some honest emotion seep in.
Another component that makes Sleigh Bells interesting is how simple their music is beneath all of the noise. Miller does not play solos and his riffs are never more than a handful of chords, but the impact of the group's signature elements, along with some carefully placed keyboard flourishes, hits hard because they are able to drown out their shortcomings with sheer volume.
"Reign of Terror" peaks with the single "Comeback Kid," with its gunshot drums, poppy keyboards and a ridiculously catchy chorus. "Don't turn around/get your gun ready" is a constant refrain in the song, which deals with issues of survival and coming back from personal turmoil, but it is a perfect distillation of the energy and fun Sleigh Bells can bring to the table. "Demons" is a fiery call-to-arms that with Miller's dive-bombing guitar, veers close to heavy metal.
It is unfortunate that the second half of the album tails off slightly. "Road to Hell" and "You Lost Me" are both ballads dealing with loss, but neither of them provide anything new or insightful enough to render them anything more than forgettable. "Never Say Die" and "D.O.A" also has the group trying to expand their sound a bit, but these songs are not entirely successful either.
Despite its flaws, "Reign of Terror" is a step in the right direction for Sleigh Bells, and hopefully they will be able to figure out how to expand their sound in new and exciting ways. The album is not a complete success, but Krauss and Miller are still able to kick up a high-volume racket.