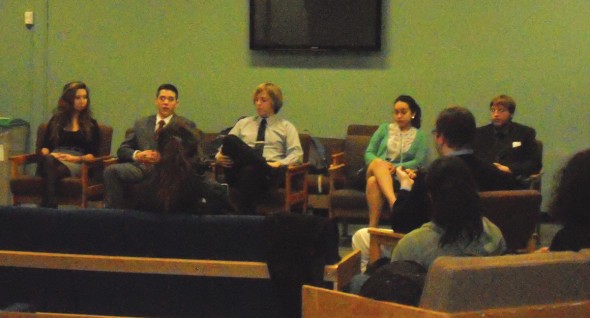 The second week of the Student Association presidential race closed with a second debate, a town hall style where the audience asked questions important to them.
Though the debate did not bring the turnout the candidates had hoped, they said it was an issue they each plan to improve. Student involvement was a highlighted problem and as one candidate pointed out, with the sheer number of enrolled students at Oswego State we should have much greater involvement in clubs, S.A. and campus events.
Current S.A. President Jonathan McDonald said he expects the candidates will garner student attention as the race progresses.
"At this point I anticipated there would be more conversations about it, more excitement about it and I'm slightly disappointed that there isn't," McDonald said. "However, there is still plenty of time in the election season."
The candidates will have the opportunity to reach a TV audience through WTOP, the tentative air date is March 1. The first day of elections will be on March 6. Students will receive an email to their school accounts and will then have two days to cast their votes.
What makes you different from other candidates?
Nathan Hemmes – "I am well affilated with all branches of this campus. If you can come up with that I cannot at least put you in contact with, then more power to you."
Nicholas Staiano – "I have the vision and the leaderhsip experience ability to move us forward and go for that vision and make it a reality."
Rebecca Witkin – "Not only do I understand what goes on within SA, I also can see it from an outside perspective,…I talk to students on a regular basis about what they want from SA."