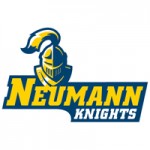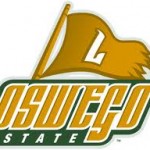 A year after losing in double-overtime at Neumann University in the first round of the ECAC West playoffs, the Oswego State women's ice hockey team returned the favor on Saturday afternoon, winning its first playoff game in program history, 3-0, over Neumann in the first round of the ECAC West playoffs.
The Lakers, who were also playing their first ever playoff game at home in the Campus Center Ice Arena, scored twice on the power play and freshman goaltender Bridget Smith finished with 18 saves to earn the shutout and send Oswego State to the ECAC West semifinals hosted by RIT.
After a nearly scoreless first period, senior forward Kelly Collins batted home a rebound attempt in front of the net with just six-tenths of a second remaining in the first period for the team's first power-play goal of the game and gave the Lakers a one-goal lead heading into the first period intermission. Oswego State took advantage of a tripping penalty by Neumann's Angela Gilmour with a flurry of shots on net in the period's final seconds. Both senior forward Mackenzie Lee and sophomore forward Carly Henderson recorded shots on net before Collins pushed the puck past Neumann goaltender Shannon Donnelly.
The goal at the end of the first period proved to be a major momentum builder for the Lakers, as Neumann appeared to deflate in the game's final 40 minutes. Oswego State recorded its second power-play goal of the game at 4:44 of the second period on a goal by sophomore forward Melissa Seamont. Following a body checking penalty by Neumann's Brittany Metcalfe, freshman forward Carly Marchment found Seamont, who beat Donnelly to put the Lakers up two. Lee received the secondary assist on the play.
Less than two minutes later, sophomore forward Megan Howe increased the Laker lead to three at 6:35 of the second period on a pass from behind the net by Lee. Lee passed the puck in front of the net and Howe wristed a shot past Donnelly.
The Laker defense limited the Knights to just 18 shots on net for the game and only three for the third period. Special teams were also strong, as Oswego State finished 2-for-6 with the extra skater and held Neumann scoreless on four attempts.
Donnelly finished with 31 saves on 34 shots faced in a losing effort for the Knights.
With the win, the Lakers advance to the SUNYAC semifinal against SUNY Plattsburgh. The game will be played at Ritter Arena in Rochester, N.Y. on Saturday, March 3 at a time to be determined later. RIT will face SUNY Potsdam in the other semifinal game.