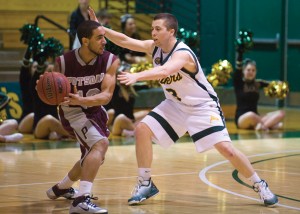 At a staggering rate of 52 percent, the NCAA leader in three-point shooting at the Division III level is making the majority of his attempts with over 2.5 made 3-pointers per game.
For the probable (SUNYAC) First Team all-conference selection, Oswego State senior point guard Sean Michele has been a shooter as long as he can remember.
"My dad has been the varsity basketball coach at my high school for over 15 years, so I grew up around those practices and that basketball atmosphere," Michele said. "And I've always been a shooter."
For Michele, his shot has been a growing part of him since he was a boy. He possesses a special jump shot that earned him a spot on his high school's varsity team as a freshman; a jump shot that led his high school varsity team to the sectional final in his sophomore and junior year, and which won his team the sectional final in his senior year.
And now Michele, a third-year player for the nationally-ranked Oswego State men's basketball team, has the best jump shot in the country, something that his head coach Jason Leone says basketball coaches can't teach.
"Sean's three-point numbers are not a product of something I did, but rather something he did," Leone said. "Sean's shooting numbers are a product of his ability to read defenses, take high percentage shots and knowing when to shoot and when to pass. Sean deserves a lot of credit."
Michele and the Lakers have been having a dream season, as Oswego State recently completed a perfect 18-0 conference record. In the SUNYAC quarterfinal on Tuesday, Oswego State defeated SUNY New Paltz 73-62, led by two 3-pointers and a game-high five assists from Michele.
"Michele is having a tremendous senior season and has come to be known as one of the best shooters, not only in the conference, but in the country," New Paltz head coach Michael Rejniak said. "He has provided Oswego State with the outside threat that they needed to be successful this entire season."
"Michele does a fantastic job of running his team and making team's pay when they focus on other players like Burridge, Gilkes and Ward," Rejniak said.
Only two wins away from clinching the program's first SUNYAC championship, Michele has not forgotten that they have to play the games before they can win the tournament. "We had to deal with national pressure at the end of last season, and losing to St. Lawrence in the season opener this year helped us learn that rankings are not wins and losses," Michele said. "You don't win games in the rankings."
"Michele's best asset off the court is that he is a relentless worker in everything he does and comes from a great family," Leone said. "His best asset on the court is his basketball IQ; it is the best I've seen in 13 years of coaching at his position."
Over the last three years, Michele has led the SUNYAC with 343 assists. Michele has never finished outside the conference's top two in assist/turnover ratio, proving how excellent his discipline is with the basketball in his hands.
Michele has a 43 percent 3-point percentage for his career, the second best percentage in the SUNYAC conference over the past three seasons. With that said, the career numbers don't reflect how Michele's non-traditional path to Oswego State led to shooting struggles early in his Laker tenure.
After graduating from East Rochester high school, Michele enrolled at Arizona State University, where he was not an NCAA athlete. Although Michele enjoyed his 70 degree weather during January and incredible campus life, there was something irking him the whole year; he missed basketball.
Michele decided to leave Arizona State and play basketball again. He began the transfer process, looking into schools he had been considering while at East Rochester high school, and some he had not considered.
"I missed competing," Michele said. "My mom had actually talked with my high school counselor about where I should look to transfer and she kept suggesting Oswego State. [Oswego State] had my major and a competitive basketball program."
Michele emailed Oswego State's then head coach, Adam Stockwell, and informed him of his situation. Stockwell indicated to Michele he would be welcome to try out for the team that coming October. Michele was sold and enrolled at Oswego State for the fall of 2009.
"Transferring is hard, but the guys on the team were great," Michele said. "I was excited to be on a team again, so I didn't care about playing time. Stockwell and my teammates made me feel right at home."
After a year away from competitive basketball and adjusting to a new school, town and team, Michele struggled with his jump shot. While attempting a modest 40 3-pointers in his first year, Michele shot only 25 percent from the behind the arc, half of his average this season.
"A lot of shooting is just confidence," Michele said. "Getting more shots helped me learn to take better shots. During conference play my second year was when I really felt like my shot was back."
Michele's 3-point efficiency jumped up to 36 percent while starting every game for the Lakers in his second year. He has started 65 consecutive games dating back to 2010.
Heading into this weekend's semifinal matchup against The College at Brockport, Michele is on pace to become the only Laker player to finish in the top 10 in assists, steals and 3-point percentage in program history. For Michele, however, this season will mean nothing if the Lakers don't accomplish their most important goal this weekend: win the SUNYAC title.
"This year has been great, but all we have done is give ourselves an opportunity to be great in the postseason," Michele said. "We really haven't accomplished anything yet."