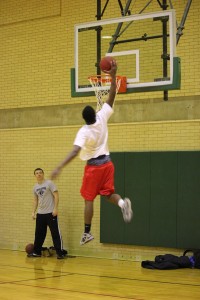 BASKETBALL:
Blowouts highlighted week three of the basketball tournament as the top seeds were all in action. Beach Season routed SAE, 54-19, while Jahmeer Rohlin led the 518 Ballers to a 70-21 victory over White Lightning.
Behind a balanced attack, the Supersonics posted the week's highest total as they dropped the Geeb Team, 83-48. The tournament's top-seeded Lee Hall Legends survived a scare from Ball So Hard University before coming out with a 14-point win.
The week's closest contest came down to the end as A Amen defeated A Clute, 40-37.
BROOMBALL:
Mike Lillis had a hat trick for the Oswego Hurricanes as they hung on to defeat the Stallions, 3-2.
Dave Russell had the play of the night, scoring from 40 feet out as the Ninjas knocked off the Maple Leaves, 3-2.
Bar South rolled to a 6-1 victory over the Sharks while Back Dat Pass Up used plenty of offense to beat Quatro Loko, 8-2.
INDOOR SOCCER:
Tully's Tenders rolled over Two Legit behind three goals from Mactar Faye while Zeta Beta Tau also got three goals from Kyle Starks as it defeated Viking Quest, 8-1.
The offensive outbursts continued as Amanda Howe scored three times for Party in 208S in an 8-0 win over Broneida.
The Cosby Kids defeated Team Team Ole!, 9-3, behind four goals from Kevin Tyler.
UPCOMING EVENTS:
Climbing 101: Learn the basics of bouldering on an indoor rock climbing wall. Registration deadline is Sunday. Register at Lee Hall. The trip date is Saturday, March 3 from 3-5 p.m. The cost is $15 and includes equipment rental, instructions and a rest of the day pass. The trip will be held at The Wall on 77 W. 1st St. in Oswego. Transportation will leave from Lee Hall, if needed.
Table Tennis Tournament: Registration deadline is Wednesday, Feb. 29 from 6-7 p.m. at Funnelle Hall. Play begins at 7 p.m. in the Funnelle Hall Lounge.