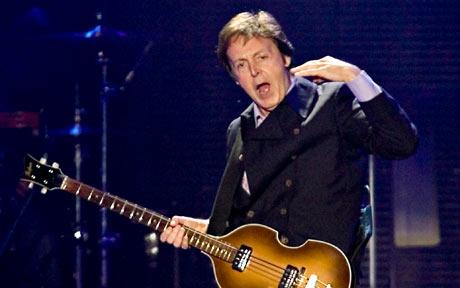 When former Beatle Sir Paul McCartney releases a new album, you would expect it to be an instant classic. But with "Kisses On The Bottom," this is hardly true. In his new album, McCartney is covering the classic crooner-style American hits from the 30s-50s: think Bing Crosby and Frank Sinatra. McCartney is a legend no doubt, but most of this performance is more Michael Buble-ish than Beatles-like.
"Kisses On The Bottom" is very repetitive, taking songs that are extremely similar. "I'm Gonna Sit Right Down And Write Myself A Letter," originally a 1930's hit, covered of course by the likes of Sinatra, Crosby and Nat "King" Cole, is your typical easy-listening jazz tune. Unfortunately, so is "Home (When Shadows Fall)," although a little more gloomily. The worst is "Always," where the mood is still jazzy-cool, but some of the singing gets to a whisper, where McCartney is completely out of his range and out of key.
McCartney shows variation in his assembling of older hits with ones that have timeless concepts, such as "Ac-Cent-Tchu-Ate The Positive," a very simple but playful and encouraging tune telling the listener to "eliminate the negative," and "latch on to the affirmative."
Another enduring model is in the deep bass-laden "Glory of Love." Originally recorded and written in the mid-30s by the "King of Swing," Benny Goodman, the meaning is very relatable, especially with today's young audience becoming more in tune with old school artists such as McCartney. He sings "You've got to give a little, take a little, and let your poor heart break a little" and follows with "That's the glory of love."
Moving away from the covers, McCartney follows through with two original tracks, one that has become the tune for a JBL Stereo Equipment commercial, "My Valentine" – an emotional track that starts out with an eerie guitar-picking tone, but switches back and forth into the previously heard relaxed jazz tone. McCartney calls for help and gets some from Eric Clapton to assist with the mesmerizing guitar.
The album closes out with another original "Only Our Hearts," completely written by McCartney himself. In whatever way that he is repetitive and lacks his reputation, McCartney redeems himself and hits a home run with this one. Everything seems to sync to create a perfect song, such as McCartney's voice recalling the Beatles' era and a classic harmonica solo by the legendary Stevie Wonder. McCartney steps a bit out of his range with "Kisses on the Bottom," and does an admirable job.