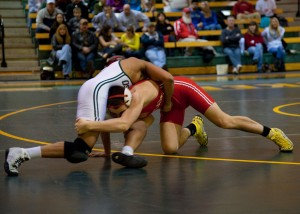 On Wednesday, the Oswego State wrestling team celebrated Senior Night. During the pregame ceremonies, flowers were given to the senior wrestlers as the wrestling department showed its appreciation for their services to the school. That was the highlight of the night.
The Lakers were over-matched by fifth-ranked SUNY Cortland and dropped a 31-6 decision at Max Ziel Gymnasium. The Lakers showed promise early, as junior and captain Omar Santiago and senior Nick Rodgers won their matches. These, however, proved to be the only wins the Lakers would post.
The Lakers suffered crushing blows when freshman Brad Mayville and senior Cameron Mills dropped their matches in overtime. Mayville, who is having a great freshman year, posting a 16-11 record coming into the night, fell to Cortland substitute Edwin Perry in four periods, 5-3.
"I think I won the match but I was out of shape," Mayville said. "I got to run more, I got to do that one extra after practice."
Mills was leading 2-1 late in his match with Carl Korpi when a questionable penalty cost Mills a point and sent the match to a fourth period.
"I think the [referee] had a temporary moment of blindness," Mills said.
The Red Dragons added insult to injury, scoring 12 points on two pins of freshmen Eric Anderson and Ed Rose. Rose, for his part, had the misfortune of facing Jared Myhrberg who is ranked second in the country among Division III wrestlers. These pins, combined with the 11-3 thrashing senior Brandon Heffernan received at the hands of Andre Berry, severed to the derail the Lakers' efforts.
Santiago continued to build upon his fantastic season with a 7-3 win against Sean Kempf, raising his record to 20-6. Santiago's win tied the score for the Lakers at 3-3 after Kevin Ramkishun came up short a in spirited effort against Paul Fields in the first grapple. Rodgers made the score 10-6 with an inspired 5-3 win against Troy Sterling after Berry's defeat of Heffernan gave Cortland a 10-3 lead.
Despite the negative result, head coach Mike Howard seemed optimistic.
"We're getting a little better," he said. "It looks like we got thrashed, but we were in three of those matches."
The Lakers won't have much time to lick their wounds. They have two meets this weekend against Wesleyan University and Williams College/University of Southern Maine Triangular. Howard claimed to have seen improvement in his team, and stressed that they keep moving forward.
"We did get better in certain areas," he said. "We just need to keep improving and taking baby steps."
"Everybody has to go in the same way we did against Cortland," Santiago said.
This weekend's meets are the last two of the season for the Lakers and they are desperate to finish strong.
"We got to keep going for the 'W,'" Santiago said.