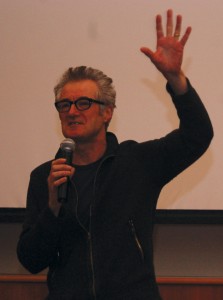 Wales native, Christopher Monger, diverged from the cultural when he became a writer and a director.
"Where I came from, the choices were to either be a coal miner or a doctor; neither of those appealed to me," Monger said Wednesday night in Campus Center to approximately 150 people.
He began painting at a young age. "When I see something that inspires me, I try to grab it and hold onto it to get that emotion across," he said.
Besides painting, he directed his first amateur 25-minute movie with his brother, which was circulated across Monger's campus.
"It's funny because it's such bad acting and bad sound, but it still packs an emotional punch," he said.
"I have no idea how I did it [making the film]," he said. "I was getting these grants to make more films and each one I tried to didn't turn out right because the feeling behind it wasn't there anymore."
"I started asking myself; 'who am I and what the hell am I doing?'" Monger soon picked up landscape painting with friends.
"I started fooling around with trying to create feeling into the painting." In doing so he realized he could integrate these paintings into storyboards for his films.
Monger said according to Sigmund Freud, Celtics could not be psychoanalyzed because they could not distinguish between their subconscious and their conscious; that it all blurred together.
"Sometimes we can't tell the difference between fantasy and reality," he said. "I'd like to think that's why I'm a great storyteller."
"I was interested in what he had to say about what the creative writing process is for him," said Amber Hammonds, a senior broadcasting major. "I want to make films and this talk has inspired me to write again."
Peter Mahan found out about the talk through the local newspaper and was hooked.
"I'm about his age and it's an inspiration," said local resident Peter Mahan. "I love his 'just go for it attitude.' I'm interested in becoming a filmmaker and since I'm retiring in four years, which is scary, I figure it can be used as my jumping off point."
Monger told the audience that if they work diligently and endlessly on a project, they will get results.
"It may not be what you imagined, but it will be better than what you thought," he said.