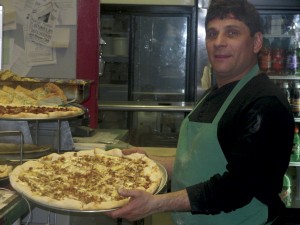 The return of Oswego State students from winter break has brought energy back to the city, along with a boost to many local businesses.
The bars, pizza shops and fast food restaurants on the west side of Oswego certainly felt the absence of the students during the month-long vacation. Classes ended mid-December and did not resume until Jan. 23. The city is once again bustling with college students.
One business that certainly felt the absence of Oswego State students is C's Farm Market and Beverage Center. The company is both a produce and beer shop. Its alcohol section, consisting of beer, wine coolers and malt beverages has one of the largest selections in Oswego County.
Eric Ormsbee, a senior at Oswego State has worked at C's for nearly eight months. He is also one of the small group of students who remained in Oswego over a portion of the winter vacation.
"I was able to go home for a while, but I figured I'd stay up here for part of break to work a little," Ormsbee said.
He works the beer shift, which is usually open until 8 p.m. on both Fridays and Saturdays. Over winter break, however, the store closed at 5 p.m. on Fridays and at 2 p.m. on Saturdays. According to Ormsbee, business is much slower during the month that the students are away.
C's keeps less employees in the store during that time.
"We only had one person working the beer shift and two people on produce," Ormsbee said. With the students back, the store uses two people for the beer shift and three for produce.
The River's End Bookstore does not make many changes with the absence of Oswego State students. According to Bill Reilly, an employee at the bookstore, it keeps regular hours year round.
The bookstore may not alter its hours due to the presence or absence of the students, but Reilly said the business "can definitely tell" when the students are back.
"There's a different energy when you guys (students) are here," Reilly said.
Oswego State students go into the store often. According to Reilly, they frequently partake in the shop's river's end readings.
Oswego State junior Adam Jean spent the majority of his winter break in Oswego. He is employed at Aldi on the east side of Oswego.
"Life is a lot different when you're the only college kid in Oswego," Jean said.
He claimed there was no real difference in business at Aldi with the students home. His social life, on the other hand, nearly disappeared.
"There's nothing to do here over Christmas break," Jean said. He said the extra hours he was able to work without a busy class schedule made staying in town worth it. He offered a quick pointer for making it through the break without his friends being in town.
"Thank god for Netflix," Jean said.