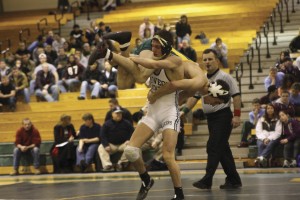 Over the past half century the Oswego State wrestling team has produced some notable achievements. Guided by its head coach of 22 years Michael Howard, the wrestling program entered the season looking to relive its past glories.
The team's wrestlers have taken it on the chin this season, as it is nursing an unsightly 2-9 overall record, their youth and inexperience being the main culprit. Out of the 28 wrestlers on the team's roster, 18 are freshmen.
"It's a learning curve from high school," Howard said. "They got to understand that the commitment level is higher than that in high school. You got these kids, and the general public thinking that D-III is just a continuation of high school. It's not."
Of the 219 matches that Oswego State freshmen wrestlers have participated in, only 64 resulted in victories.
"It's tough," junior team captain Omar Santiago said. "I know we practice hard, and when we come up short it's hard. It's hard for me and hard for the team."
"We're not making excuses for anything," Howard said. "We have to go out there and try to put up a solid record."
"It's nothing we're incapable of handling," freshman Brad Mayville said regarding the team's rigorous training regime. "It's just about staying after it."
"Wrestling is a difficult sport," freshman Eric Anderson said. "It's more grueling than any other sport in my opinion."
"It's a love-hate thing," freshman Kevin Rankishun said. "You miss it a lot during the offseason, but you hate it in-season."
Technique is the word on the lips of everyone involved in the wrestling program. Howard, for his part, cites consistency in technique as the key to improvement for his team.
"We practice so we can develop talent and technique," he said.
"Everyone comes from different programs," Anderson said. "Each program has its own way of teaching so you develop 'bad habits.' You have to work on technique to bring everything together. There are a lot of kids who break down during the season."
As collegiate athletes, the wrestlers have their lives dominated by their sport.
"It's tricky at first," Anderson said of balancing education and sport. "You need to be structured."
"It's a lifestyle," freshman Seamus Lyman said.
"You got to finish your work as soon as you get it," Anderson said. "There's no time to procrastinate."
The Lakers will have quite a bit of growing and maturing to do over the next couple of seasons. Many of the freshmen wrestlers' 155 losses so far this season have come against juniors and seniors.
"We're wrestling men," said Mujeeb Ghafari, a red-shirted freshman. "If we keep doing what we're doing we'll develop just like any other team."
Most of the Wrestling team members are housed in Oneida Hall. The goal is to promote camraderie between the wrestlers, and promote a structured, wrestling-oriented environment.
"You turn around any corner and there are wrestlers," Rankishun said.
With only four meets left on the schedule before the Regionals, Oswego State has its work cut out for it. Though this season looks to be a wash for the most part, there is hope for the future. It's common for freshmen to struggle at the Division III level. The experience gained by this season's freshman class may come to serve Oswego State well.
"Any time you can get time on the mat it's good," Howard said. "You can't copy that no matter how hard you try."
"We have a lot of raw talent," Anderson said. "We just need time to develop."
In the end, wrestling is an individual sport and it's up to the individual wrestlers to bring the team to the heights many involved in the program believe they can reach.
"That's my favorite thing about wrestling," Ghafari said. "You're on your own. It's only you to blame."