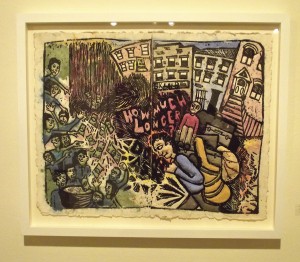 The 49th Juried Student Exhibition opened its doors Friday, Jan. 27, in the north gallery of Tyler Hall with an open reception and awards ceremony. The south gallery opened a special exhibition, Pulp Icons: Cast Paper and Prints Of Stewart Nachmias.
About 75 students submitted work for consideration; roughly 150 pieces submitted in total. Only 44 of those were selected for the gallery after professional artists were brought in to select the most successful pieces. During the award ceremony, three pieces were selected by President Deborah F. Stanley to receive the Presidential Purchase Award. The three pieces will be purchased by Oswego State and will go into the college's collection of art. A total of eight students received awards.
Zoology major and winner of the Presidential Purchase Award, Katrina Bumpus, stated that the winning photograph took about three hours of editing and that the piece was purchased for $75. Erica Querns, winner of the Al Bremmer Art Award, explained that her piece was created to be placed in front of her high school, but that it was denied for being too violent. Querns created a sculpture based on her hometown of Auburn, N.Y., which featured a crow sitting on an electric chair.
"I never can have a favorite piece because they are so different," said Treasurer of the Students Art Exhibition Committee, Marissa L. Hill. "The ceramics this year is really really good."
The exhibition also attracted and amazed several students not related to the arts.
"They represent two different missions of the gallery; one is to bring out established artists who are doing interesting work from outside the area," said Assistant Director of Tyler Art Gallery, Michael Flanagan. "Stewart Nachmias is a printmaker from New York and does a lot of different blending of techniques to make three dimensional prints. He is really sort of on the edge of printmaking in terms of his relationship to the medium of printmaking, because he is combining things. These are one of a kind prints that can't be reproduced."
Flanagan stated that the second mission of the gallery is to support the art students.
Stewart Nachmias declared that his work is inspired by his life as a puppeteer and musician.
"It was part of my life, so I was just drawing from that stuff; it was something I was comfortable with and familiar," Nachmias said. His pieces are built on wood blocks and he explained that the whole process to make one piece can take several months.
"The first part of the process is making the wood block. So a wood block can take me a couple of weeks and months and then it takes a full day to print a piece, and it takes a week to two weeks to dry," Nachmias said.
Both galleries will run through March 3 and are free and open to the public.