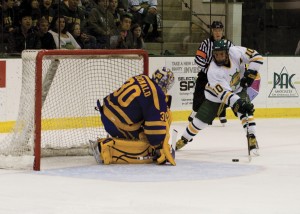 For the first time since the 2007-08 season, the men's ice hockey team features a junior who wears an "A" on his jersey, a symbol of leadership, maturity and respect.
Junior forward Jon Whitelaw has had a successful career with the Lakers during his first two seasons in an Oswego State uniform, leading to the decision among his teammates to be named the first junior assistant captain since Kyle McCutcheon in 2007.
"It was a good show of respect from my teammates," Whitelaw said. "I guess they thought I was capable of accepting that role as one of the leaders. It's one of those things I'm honored with and happy to fill."
As an assistant captain, Whitelaw has served as a guide for this year's freshmen class. Whitelaw recounts the leadership of former captain Tyler Lyon and assistant captains Neil Musselwhite and Brad Dormiedy back when he came into the program as a freshman.
Whitelaw, as well as the two other assistant captains and team captain Andrew Mather, meet with head coach Ed Gosek and assistant coach Mark Digby regularly to talk about both off-ice and on-ice issues regarding the team. Whitelaw said that he has a close relationship with both Gosek and Digby, as well as with former assistant coach Dan Ford, whom he still keeps in contact with.
Born in Huntsville, Ontario, Whitelaw has been playing organized hockey since he was four years old. He played in the Ontario Junior Hockey League for four years with the Huntsville Otters before be recruited to play for the Lakers.
Whitelaw earned SUNYAC Rookie of the Year honors as a freshman, recording 38 points on 12 goals and 26 assists. He followed up that season with a strong sophomore showing, finishing third on the team in scoring with 30 points on 12 goals and 18 assists.
Whitelaw's favorite part about playing hockey at Oswego State is the fan base that covers the program. Oswego State had the second highest average attendance during his freshman year with 2,313 fans per game and also during his sophomore year with 2,347 fans per game.
"I don't think there's another atmosphere like it in Division III. It's the best place you can play," Whitelaw said. "(The fans) are great. They're very supportive and very friendly. It's nice to have that kind of following and it's something we're very fortunate to have."
However, away from the Campus Center Ice Arena, attendance numbers are not always as high, especially when traveling to SUNY Fredonia and SUNY Potsdam, who they play on Dec. 3. Potsdam is averaging just 360 fans per game so far this season, second lowest in the SUNYAC.
"It's one of those games where you have to find a way to get yourself up," Whitelaw said. "You don't have the fans to rely on so you have to be mentally prepared or else you might have a slip-up. We're pretty fortunate that regardless of where we go we still have a following."
Whitelaw said that his two least favorite venues to play at are Hobart College's Geneva Recreation Center and Morrisville State College's Iceplex. The Lakers lost at Hobart last season, 5-2, in front of 220 fans on Dec. 11, 2010. Oswego State travels to Morrisville on Feb. 4, looking to avenge an early-season tie at home to the Mustangs, a team the Lakers have struggled against in recent years.
"I don't know if we drop our game down to them or they just raise up to ours, but no matter what it is whenever we play them it's always a close game and it's something we have to be more mentally prepared," Whitelaw said.
In the 3-3 tie against Morrisville this season, the Lakers wore their yellow alternate jerseys for the first time this season. While the jerseys have gotten mixed reviews from the fans, Whitelaw and the rest of the team like them and wouldn't blame them for the tie.
"I think they're pretty neat," Whitelaw said. "I don't know what the general public opinion is about it but it's something we talked about doing last year and as a team census we agreed upon. We like them. We hope everyone else does. It's unfortunate we had a rough go our first time wearing them."
While Morrisville and Hobart are two rinks Whitelaw enjoys the least, he said that the Ronald B. Stafford Ice Arena in Plattsburgh is his favorite place to play outside of the Campus Center Ice Arena because of the intense rivalry between the Lakers and Cardinals, a rivalry that will be renewed on Friday, Dec. 2, when the two teams meet in Plattsburgh.
"Playing Plattsburgh, it's just one of those things that nothing is going to prevent you from rising up because it's such a big stage that you're adrenaline is going to be flowing and I don't think any travel should be an issue because if you can't get up for that game I don't know what game you can get up for," Whitelaw said.
Whitelaw and the rest of his freshmen class have yet to drop a contest to their archrivals, defeating the Cardinals in the last five meetings. The five-game winning streak for the Lakers follows a 0-9-1 stretch against Plattsburgh that stretched from Feb. 24, 2006 to March 7, 2009.
"It was nice that we were able to reset the way things have been going over the past few years and it's obviously something we take great pride in doing and hopefully it'll continue."
During his playing career at Oswego State, Whitelaw has helped the Lakers go 56-9-1, winning a SUNYAC title in 2010 and winning a pair of NCAA Quarterfinal games against Bowdoin College to advance to the NCAA Frozen Four. Despite the success, Whitelaw said that two NCAA Frozen Four losses still linger.
"It's been very successful," Whitelaw said. "Coming in I wasn't too sure what to expect. But two trips to the Frozen Four and a SUNYAC title definitely have been nice, but the heartbreak of going to the Frozen Four twice and losing it still is in your stomach."
Whitelaw said that he would love to have another chance to play Adrian College, whom the Lakers lost to in last year's Frozen Four.
"It really hasn't been them that's beat us, we beat ourselves," Whitelaw said. "Adrian is a great team but I really think that was a game we could have had. I would love to get another shot at them and hopefully take another shot at getting to the championship."
Whitelaw said that the freshmen class he came in with wants to win a couple of SUNYAC titles and national championships before they graduate. The Lakers currently sit at 7-1-1 overall and lead the SUNYAC by one point over Plattsburgh. Oswego State holds the No. 2 ranking in Division III behind undefeated Norwich University.