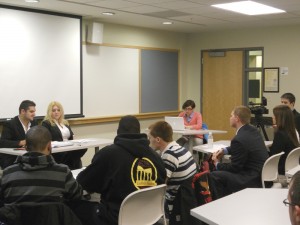 In a pretrial hearing, an injunction requested by the cheerleading club to unfreeze accounts was denied; the group's finances remain untouchable.
"I dislike the fact that they might not get their money, but it's just the process and we're trying to be as fair as possible to all student orgs," said Jonathan MacDonald, president of Student Association.
Of the 160 organizations that use Student Association funds, 23 missed the mandatory meeting. These clubs all had their accounts frozen by the department of finance until 2012.
The cheerleading club is the only club filing a case to retrieve its funds, Thomas Scandaliato pointed out. He is representing the cheerleading club in its trial.
Scandaliato argued that S.A.'s new procedure dealing with club finances was rushed, and that emails often get lost in the shuffle of day-to-day life, especially those without clear subject lines. The law relating to freezes is vague, unclear and therefore unjust, he said.
Scandaliato asked for an immediate unfreeze so that the cheerleaders could purchase uniforms and other items for the upcoming basketball season and for local and national competitions.
Michael Dempsey, assistant director of finance and representative for S.A. had rebuttal arguments. He noted that they had received notice of the mandatory meeting at the beginning of the semester through a letter in their organization mailbox and in an email.
Prior to the court's statement, Scandaliato made a comment.
"It ain't over till the fat lady sings," he said.
Following the court's ruling, however, Scandaliato had no comment.
Dempsey said the court did a good job in upholding the law and was positively moving forward.
The ruling stated that given the current evidence there was no apparent violation of the law by the finance department. The case will proceed to trial at a later, undetermined date. Both parties were asked to provide availability in scheduling the trial, via email, to determine the validity of S.A.'s laws dealing with account freezes. The trial will be held during the spring semester.