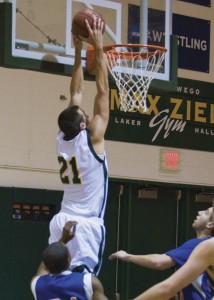 One thousand-two hundred-and-fifty-one points. That was the number of points Mat Burridge, senior forward Chad Burridge's older brother, totaled during his well-heralded career at Oswego State .
This number also represents the lone individual accolade that has crossed Chad Burridge's mind since enrolling at Oswego State in the autumn of 2008.
"I've been well aware of how many points my older brother scored," Burridge said. "It was great when I finally passed him last season. But to be honest, I am much more focused on the team's success than on my numbers."
The light-hearted and well-spoken senior forward may modestly shrug off his individual accomplishments, but Burridge has effectively rewritten the Oswego State record books, all while leading the Lakers to uncharted postseason heights.
Entering this season with 1,361 career points, Burridge is on pace to become the second leading scorer in Oswego State history. Additionally, Burridge is tracking to become the second leading rebounder in program history, as well as the all-time leader in blocked shots.
Last season, Burridge earned the State University of New York Athletic Conference (SUNYAC) player of the year award and finished the season as a National Association of Basketball Coaches (NABC) first team All-American as a junior.
And yet, what makes Burridge most proud about last year is that Oswego State earned their first NCAA tournament appearance in program history, with home court advantage in the first two rounds to boot.
The Lakers did not disappoint in their first NCAA tournament game. Led by Burridge's 27 points, nine rebounds and three blocks, the Lakers won their first NCAA tournament game in program history on their home floor.
"My teammates and I could hardly put it in words," Burridge said. "To be the first team in program history to go to the NCAA tournament, to watch the official NCAA tournament stickers get placed on your home court, was as fun a time as I've ever had."
"It's an experience having an All-American as a teammate," junior forward Hayden Ward said. "[Burridge] does a great job of taking pressure off his teammates while also pushing the team to play at a high level."
"I've been coaching for 13 years, and most of the great players I have been around, players like [Burridge], have excellent basketball character," Oswego State head coach Jason Leone said.
Growing up nearby in the town of Hannibal, Burridge has been a fan of the Oswego State program for years. His interest peaked when his brother became a member of the team in 2003.
"I knew the only Division III program I'd ever play for would be Oswego State," Burridge said. "I knew (former head coach) Kevin Broderick from my brother's career at Oswego State, and I had attended several basketball camps at Oswego during my high schools years."
Burridge was attracted to the prospect of playing close to home, which would make it convenient for his family to attend home games.
"Oswego State was simply the best fit for me," Burridge said.
As a freshman, Burridge started all but one game, averaging 14 points per game and leading the team with 85 blocks. In his first SUNYAC playoff game, Burridge scored 30 points and added 10 rebounds in a Laker win.
Despite winning the SUNYAC Rookie of the Year award, Burridge admits his role on Broderick's team was much different then what he was previously used to.
"I didn't know what my role would be freshman year," Burridge said. "We had two great senior scorers in Kyle Reuter and Tommy Downer. My job was to play physical and quick, and growing up in the Burridge household had certainly prepared me for that."
Burridge's became the focal point of the offense for new head coach Adam Stockwell during his sophomore season. Burridge averaged 17.2 points and nearly eight rebounds per game, however the team struggled to their first losing record since 2000.
"My sophomore season, we simply didn't know what to expect with a new head coach and such a young roster," Burridge said. "We knew we were going to struggle early on."
According to Burridge, something clicked by the end of that otherwise losing season, and the Lakers won four of their final six regular season games. The Lakers took that momentum into the 2010-11 campaign, and have been riding it ever since.
"We know we have a good team," Burridge said. "The national rankings are great, but we have to be focused if we want to keep it going."
Whether it's the national rankings that grab their opponents' attention or the impressive statistics, opponents know the only way to bring down the Lakers is to try and contain their captain.
"[Burridge] is a special player," said Luke Flockerzi, head coach of the University of Rochester men's basketball team. "His versatility and ability to play inside-out at his size makes him a very tough match up at our level. He plays well within the team concept and picks his opportunities."
"Chad has been a great listener," Leone said. "He is a very good defensive player. The way we play is going to continue to get him opportunities. He is so impressive because a lot of guys have the talent, but what makes an All-American is the intangibles. He has those."
Burridge's senior year goals are very simple.
"I want this team to win a SUNYAC championship," Burridge said. "Winning the first one in school history would be a great way to end my final season."
Considering everything that Burridge means to the program as both an all-time great and as a member of the first NCAA tournament team, it seems that whatever comes from this season will only add to one of the most impressive and respectable careers in Laker history.