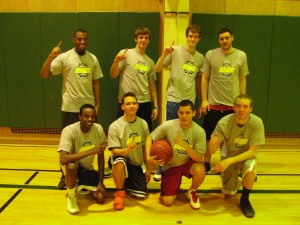 BASKETBALL:
The Lee Hall Ballers captured the men's championship on Nov. 17 after defeating the 518 Ballers, 53-44. The team utilized an effective balance all season, getting superb guard play along with a solid inside presence from big man Scott Seiter. The Lee Hall Ballers also were a serious threat from behind the arc, with sharpshooters Danny Marcus and Pat Kane.
Although the fourth-seeded 518 Ballers fell one win short of the title, the group's work cannot be overlooked. They advanced to the championship on the shoulders of strong guard Jahmeer Rollin, who singe-handedly sent the top-seeded Supersonics packing in a 64-55 semifinal win. Rollin earned Campus Recreation co-player of the week.
Jim Lahey's Squad defeated Swagger, 56-50, to win the Co-Recreation title.
BROOMBALL:
The Big Daddy's started the men's playoffs on the right foot by defeating the Rolltiders, 9-1. On the Co-Rec side, John Evans and Daniel Ulrich combined for all five goals in the Goals in All Holes' 5-0 win over Perkisystem.
FLOOR HOCKEY:
Team Jimbo's Crickets got a championship performance from Alexa Rudy, who scored two goals to help the team take the Co-Rec title over the Crimson Panthers. Rudy was aided by teammate Mike Altavilla, who also added two goals.
On the heels of a five-goal semifinal, Chris Galante added four goals in the final, but was unable to stop Jimbo's Crickets from taking the crown.
The men's competitive playoffs got under way with Car Ram-Rod beating Rick Jeanneret, 7-6. The Stonefacers beat Team 2 Sedin's No Cup, 2-0, and Anne Frank's Army topped Shut Your 5-Hole, 9-5.
UPCOMING EVENTS:
Broomball playoffs are set. Come to the Campus Center Ice Arena to see how it unfolds.
Getting stressed out before finals? Check our website at www.oswego.edu/campusrec for open recreation times!
"Like" Campus Recreation on Facebook and follow us on Twitter @camprecreation. Our "Off The Benches" videos are posted weekly on our website.