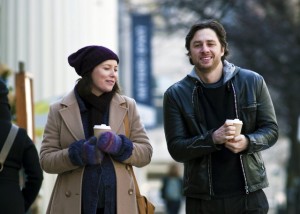 New on DVD at the beginning of October is "The High Cost of Living" starring Zack Braff (Scrubs) and Isabelle Blais. The film conquers the painful question of what happens after a tragic accident occurs. Braff plays the role of Henry Welles, who makes a wrong turn and strikes down Nathalie (Blais) who is nine months pregnant with her first child. Though the tragedy might normally occur at the end of the film, this accident acts as the catalyst to the film, and the audience must follow the interactions and decisions that come next.
Henry is a drug dealer because he is good at it but does not seem very happy. He lives in apartment rented out above a family of Chinese restaurant. The whole situation involves a man with no real home who hits Nathalie while out delivering drugs to hysterical high-strung customers. With a car full of drugs, he has no choice but to flee the scene. For a protagonist, he likes redeeming qualities other than his strong desire to see if the woman he hit survived or died. Once Nathalie and Henry are brought back together he devotes himself to be her new guardian angel as she deals with the loss of her baby.
The story is heart wrenching but mismatched Braff. The story is about Nathalie, who survives the crash but loses her child. Because her body is in shock, she is forced to walk around for a week until she has recovered enough for the surgery to remove the child. Fights with her husband and further alienation add fuel to the fire for a sympathetic audience. In one heartbreaking scene, the audience finds Nathalie at a bar crying and drinking away the fight with her husband, only to have an American couple scold her for drinking so much while she is pregnant.
As Nathalie sadly falls in love with Henry, the audience has to wonder why this man really forced himself to find her again. In a scene in the snow, Henry explains the random nature of life that led him astray and how he once was a nice guy but now lives as a not-so-nice person. Henry already knows his problems, so why does the audience have to follow this man around? There is no real growth for the character other than the realization he has to truly take responsibility for his actions, something all the supporting characters said throughout the entire picture.
The film originally premiered at the Toronto International Film Festival in 2010 and was released theatrically in April 2011. This indie drama was filmed in Montreal, Canada and was written and directed by Deborah Chow.