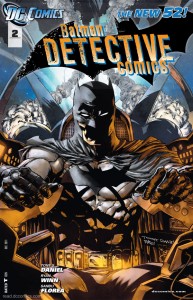 "Detective Comics #2," written and drawn by Tony Daniel, has some elements that Batman fans will recognize and an interesting looking new villain. Unfortunately, it fails to live up to the first issue.
With that being said, since this is Detective Comics, readers would expect to see Batman do a lot more detective work, and that isn't a bad thing. Sometimes reading about Batman solving a case and figuring out who is ultimately behind it all can be exciting and suspenseful. However this issue is very dry at times, and to be honest Batman does not really do any detective work.
The action in this issue is saved for last few pages, which is something that Daniel tends to do. He tends to save all the important and good stuff for the end while the beginning and middle can be dry and not exciting.
But that does not mean the action at the end is bad by any means; in fact, it is done quite well. Daniel took the villainous DollMaker from the previous issue and made him into a more sadistic version of Doctor Frankenstein. He likes to cut off the skin of his victims and he and his henchmen wear them like clothing and masks. The DollMaker is very dark, and is one of the more interesting characters that Daniel has made for this series.
However the parts leading up to the end are not as dramatic as the last issue. In the last issue Batman was in a constant chase with the Joker while trying to evade police. The Joker is not even seen in this issue and is only mentioned briefly in one of Batman's several narration boxes. It seems that besides the DollMaker and a brief talk between Jim Gordon and Dr. Jeremiah Arkham about the Joker breaking out of Arkham Asylum, the events of the first issue are never mentioned.
The only interesting part in the beginning is when we get to see Bruce act like a playboy again. A woman named Charlotte Rivers is introduced, who at first seems like another Vicki Vale and accuses Bruce of using this business man/playboy lifestyle as a facade for something else. However unlike Vicki Vale, who is constantly trying to find a connection between Bruce and Batman (to the point of almost getting herself killed), Charlotte just uses it to get his attention and wants to continue a relationship that Bruce ultimately is not that interested in. This is a quality that we have not seen from Bruce for a while and it is nice to see him flirting with other women.
This issue was not bad, but compared to the first issue it was not nearly as good. It was not as exciting and Daniel seems to focus on things that are not that important. Besides the appearance of the DollMaker, it does not mention the events of the previous issue. It does have some dark elements to it especially with the DollMaker and the end is definitely something that will want to make readers pick up issue number three. Hopefully, Daniel will not consistently do this for all the other issues.