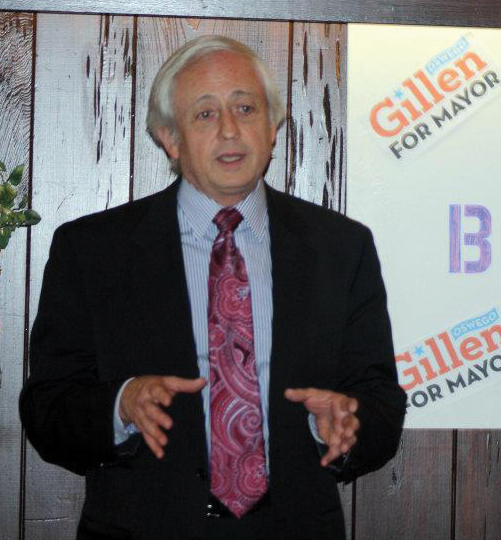 Mayoral candidate Tom Gillen has a plan to revitalize the community and he would like to include Oswego State.
The draw to become mayor, for Gillen, lies in what Oswego used to be a prosperous factory city where people could live for their entire lives. "But the paradigm shifted in the last generation and has changed completely," Gillen said.
use there are no jobs here. Because there are no jobs here there's no wealth here."
Gillen's family has been in Oswego for over 110 years. Gillen was born and raised in Oswego. He went to Oswego State from 1967 to 1972. Gillen and his wife moved out of Oswego for several years, but moved back to Oswego to raise their three children in the very house his great-grandfather built in 1901.
Gillen said that Oswego State is a large contributor to the community.
"Students are about 40 percent of our population that apparently we don't want to have anything to do with them, which makes no sense at all. If it weren't for the college, I don't even know what our economy would be. They come here and they buys goods and services, they spend a lot of money, they're partners with us, economically and strategically," Gillen said.
"I think the college needs to get friendly with us as well. I mean when they built that nice conference center, where the ice rink is at, I think we should have had a dialogue and maybe could have put it downtown and incorporate the college and the city into one community," he said. "A location so people can come into the city, to go to the hockey game, or maybe to go to event there, and get them to spend some money downtown. They separated the community from college, really there's no need for you to ever go downtown. We can connect the dots we can rebuild this, I think it's the old blue collar Oswego versus the new age academia of the college."
Gillen spoke about buying more from local shops helping to keep the money in Oswego. He also touched on growing the economy by creating jobs for the youth and keeping some of that youth in Oswego. He sees a vision that may change what the local folks of Oswego are used to, but he is willing to sit at the table to talk people about what their needs are and how can he meet them by having mayor office hours and being able to have an open door policy for the people of Oswego.
"We had an opportunity to sell the old house and move elsewhere, but no. We decided to stay in this neighborhood; in this mix bag of modern houses, great neighbors, next to the lake," he said.
Gillen said that through his business travels on the East Coast, he saw that Oswego has a lot to offer, but the leadership might not currently have the vision to make that happen.
He has a 20/20 vision, which revolves around growth.
"We have the port of Oswego which is in growth mode right now, that's an economic engine that's going to turn things around. We produce energy. I mean we can produce enough power to power the Northeast. Just here we have hydro rivers where we can actually produce our own hydro electric electricity, and provide it to the taxpayers," Gillen said. "We need to encourage business to relocate here by negotiating contracts with them."
Gillen had never considered being an elected official until now. He has been working for private corporations in management positions. Gillen's main goal is to revitalize, "We've seen the city come and go a lot in 32 years. It was a young vibrant city when I first moved back. And now, well, now it's just old and tired. I think we need to address the economic development part of the city and make it prosperous for the community."
"I think city hall has served their own interest first and collectively there's a group of special interest they get served first. Problem is that if you're not interconnected with them, chances are you getting elected is more challenging. The people that can actually implement change are the ones who have the hardest time getting elected. If that's what the people of Oswego want, that's what they'll decide on, you get who you vote for," Gillen said.