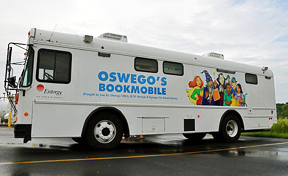 The Oswego Bookmobile has been put into storage after a successful first summer of operation.
The Oswego Bookmobile was first displayed during the Fourth of July Parade and then made its first scheduled visit on July 6. It continued making appearances at various locations around the city until Sept. 24.
Throughout the summer, it delivered more than 3,300 books to 1,400 people, of which 80 percent were children. The original goal set by the Bookmobile Committee was to deliver 725 books to 325 children.
Joan Dain, an Oswego City School District teacher, was behind the bookmobile idea.
"The bookmobile was an inspirational experience for me," Dain said in a statement. Starting this project and watching how children react to and come back to the bookmobile, week after week, especially in areas where students have limited access to books, was incredibly rewarding."
Visitors would be able to find the Bookmobile and take two books. The emphasis was on conservation and readers could return the books for others to read or keep them if they so choose.
AmeriCorps volunteers Laura Taverni and Cynthia Kellogg, who helped restock books, line up volunteers and helped children find books suitable for them, helped the Oswego Bookmobile.
The volunteers said in a statement that seeing the children come back for more books was the most rewarding aspect of the project.
It was helpful to children because it gave them something that was fun and educational during their time away from school.
"When students are out of school for 10 weeks, their reading level regresses if they don't read," said Theresa Slosek, Oswego Public Library Director of the Public Computing Center. "The bookmobile helps maintain or increase their reading level instead of regress."
The Bookmobile Committee will continue to meet year-round to prepare for next summer.