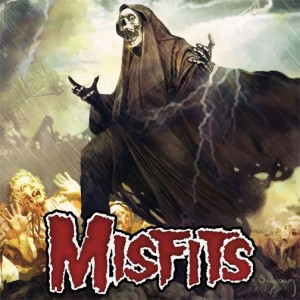 After more than 10 years, punk rock legends The Misfits have finally put out a new album entitled "The Devils Rain," which has the necessary components to be great, but it falls flat on several ends, making it an average release at best.
The band as a whole sounds very strong and can still wail when they need to. Jerry Only, the only remaining original member, sounds vocally powerful and has a good bass tone as well. Dez Caneda (ex Black Flag) and Eric "Chupacabra" Arce make fine editions to the lineup on guitars and drums. The production is crisp and everything seems like it was all written with care and time.
That said, this is anything but a punk album.
The album has the vibe of a hard rock album with '50s influences. Granted, The Misfits are known for incorporating '50s influences in their music, which sets the basis for horror punk bands, but they are also known for their speed, something "The Devil's Rain" does not have. Most of the songs are at a mid-rock pace, which is a little disappointing. "Father" is one of the few slower numbers that work. Thankfully, some songs such as "Land of the Dead," "Vivid Red," "Jack The Ripper" and the album's closer "Death Ray" are a bit faster, but not much. Not all the slow songs are bad, but if they were faster they would be gold.
Another problem is the lyrics. The Misfits are known for having some kind of controversy with their macabre lyrics in the past, but not on "The Devils Rain." This album could be played to a five year old before bedtime and there would not be a problem. One of the songs "Where Do the Girls Go?" is not only the best example of how cheesy a lot of the lyrics are, but is also easily the worst Misfits song in their entire catalog.
"The Devils Rain" is a barely average comeback album with a lot of potential to really make a splash. Unfortunately, that potential remains untapped with slower tempos and embarrassing lyrics. Not all of it is bad, but not all of it's that good either.