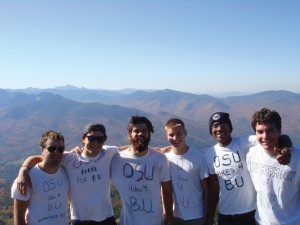 Last weekend the Oswego State outdoor club held a commemorative hike to pay tribute to a SUNY Binghamton student who took a fatal fall in the Adirondacks on Sept. 30.
Matt Potel, who was co-president of the outdoor club at Binghamton, was helping another student when the accident happened during the club-sponsored rock climb.
When the incident occurred, the Oswego State outdoor club was also hiking in the Adirondacks just a few miles away.
"The shock factor after reading the article [about Potel's death], was seeing 'wow, we were on the mountain across the lake when this happened,'" outdoor club President Mac Dillman said.
Potel was an experienced climber, whose sudden death has shaken the Oswego State outdoor club.
"It's very sobering for something like that to happen," Dillman said. "It really tells us that no one is immune and everyone still has to be safe and vigilant and take care of each other on the trails."
Although the incident happened to a student from Binghamton, the Oswego State Outdoor club felt very affected by Potel's tragic death because it could have happened to anyone.
"It hit everybody really hard because we were up in the same places doing some of the same things," Dillman said. "This kid is our age, this kid is doing what we do every weekend…It could've been a member of our club."
After hearing about the tragedy, Dillman knew that the outdoor club had to find a way to commemorate Potel. At their meeting on the following Tuesday, there was a moment of silence held for Potel. The club also decided to hold a memorial hike to show their support for the Binghamton outdoor club and Potel's family.
"We were treating this weekend as a tribute weekend. We wanted to show that this incident does affect everyone," Dillman said. "It reaches out to anyone and everyone who climbs and who hikes in those mountains."
As part of its memorial hike, the club made T-shirts to show its support and to draw attention to the cause. Hikers who were unaware of the tragedy asked the club what its shirts meant, which created a greater awareness of the incident.
"We wanted to show that while we were up in the trails that weekend, that's what was on our minds," Dillman said.
The memorial hike not only paid tribute to Potel but also gave the outdoor club some peace of mind. Dillman said he and the rest of the club felt a strong connection to the tragedy even though none of them knew Potel personally.
"I thought by doing this [we were] showing that we are going to keep climbing," Dillman said. "Nobody is going to stop climbing because of this. We are going to do it more and enjoy it more because… it makes us appreciate it more."
Dillman said he hopes that their memorial hike has shown respect and support for the SUNY Binghamton outdoor club and Potel.
"(Binghamton) is dealing with the loss of a friend and family member," Dillman said. "Anyone who has experienced a loss like that knows how empty you can feel because of that, and if we can help to show them that they are not alone and that this impacts everyone, I think it's worth the effort."