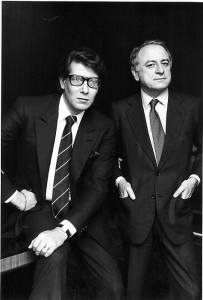 Following a trend of documentary releases, new on DVD at the end of September is the documentary L'Amour Fou (Crazy Love). The documentary spans the life of famous designer Yves Saint-Laurent who passed away from cancer in 2008. The film is available both on Instant Streaming on Netflix and Amazon.com
Saint-Laurent is synonymous with famous fashion trends such as the safari jacket and haute couture. At the age of 21, she was the head designer of the House of Dior in the late 1950s. Though his 1958 spring collection almost single-handedly saved the House of Dior, he found himself fired from the house after being sent to war during the Algerian War of Independence. From there he began a romantic relationship with Pierre Bergé, who acts as narrator and key speaker for the documentary.
Bergé and Saint-Laurent, with the backing from Atlanta millionaire J. Mack Robinson, opened a fashion house and simultaneously moved in together. The film oscillates between Saint-Laurent's slow decline into drug addictions, an eventual death and their growing art collection that Bergé states "has no soul." While the pieces of art are said to have no soul, the audience watches time and time again, through footage and pictures, the process of packing and removing all of the art within the many homes the ex-couple shared together.
Saint-Laurent led one of the most fascinating lives and contributed immensely to the fashion world, France and beyond, but the documentary itself suffers to maintain audience's attention. The musical score competes for attention throughout the film and overpowers the soft-spoken Bergé. The fonts used for the subtitles throughout the film actually change colors, intensity and clarity. This distraction in the lower third of the image detracts from what the spectator sees, but also reads and comprehends. Throughout the film the audio had undergone a cleaning or layering of filters that leaves a slightly metallic tone. This metallic tone interferes the message of a film meant to pay a humble and loving tribute to an icon and friend who has passed away.
L'Amour Fou is a film by Pierre Thoretton and an official Sundance Selects film. It was a 2011 Official Selection at Tribeca Film Festival and the winner of FIPRESCI Critics Prize at the Toronto International Film Festival in 2011. The story within the documentary is touching and heartfelt, but audiences must choose whether or not they can overcome and ignore production flaws that can detract from the greater message.