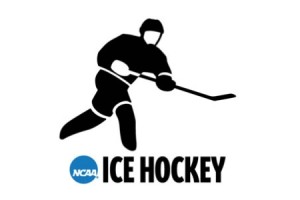 Coming off its second consecutive NCAA National Semifinal appearance last season, the Oswego State men's ice hockey team will start the season as the No. 2 ranked team in Division III, garnering three first-place votes and 266 total points. The Lakers ended last season as the No.4 ranked team in the country after losing to Adrian College, 5-3, in the Frozen Four.
Defending national champion St. Norbert begins this season where they finished last season: No. 1. The Green Knights received the majority of first-place votes among voters with 16 and compiled a total of 296 votes. St. Norbert defeated Adrian in the NCAA Championship in Minneapolis, Minn to earn its second national championship in program history.
Rounding out the top five were Norwich University (No. 3), Adrian (No. 4) and SUNY Plattsburgh (No. 5). Of the teams in the top five, Adrian took the biggest in terms of returning players. The Bulldogs graduated 17 seniors from last year's roster, leaving the team with just three seniors this season. Norwich, who received one first place vote, and SUNY Plattsburgh, NCAA tournament qualifiers last season, met in the NCAA Quarterfinal at Plattsburgh, N.Y., with the Cadets defeating the Cardinals, 3-2, in overtime.
Oswego State's first opponent on the 2011-12 schedule, Elmira College, opens the season ranked No. 6. The Soaring Eagles will host the Lakers on Friday, Oct. 21, in the season opener for both teams before traveling to Oswego State for the latter half of a home-and-home series on Saturday, Oct. 22. Castleton State College made the biggest jump in the preseason poll, moving up two spots from a year ago to No. 7. Also jumping up two spots in the new poll was Wisconsin-Superior at No. 9. Bowdoin College, who has seen its season end at the Campus Center Ice Arena for the past two seasons in the NCAA Quarterfinal, begin the season at No. 8. Hamline University rounds out the top 10.
Neumann College dropped a spot to No. 11 after dropping a 5-1 decision at Elmira in the NCAA opening round. SUNY Geneseo gives the SUNYAC three teams ranked in the USCHO.com poll, as the Ice Knights open the regular season at No. 12. The Ice Knights will be tested in their season opener, as they host Adrian on Saturday, Oct. 22, at the Ira S. Wilson Ice Arena in Geneseo, N.Y. Utica College, a team the Lakers will again see twice this season, opens the season at No. 13. Milwaukee School of Engineering (No. 14) and Curry College (No. 15) round out the top 15.
Other teams receiving votes were: Williams (33), Gustavus Adolphus (20), Manhattanville (19), Middlebury (16), St. Thomas (9), Amherst (8), Hobart (8), Marian (7), Wisconsin-Stout (7), SUNY Fredonia (6), Wisconsin Eau-Claire (5), Hamilton (3), Salem State (2), Wentworth (2), Wisconsin-River Falls (2), Wesleyan (1).
USCHO.com Men's Ice Hockey Poll
1. St. Norbert (16 first-place votes; 25-4-1)
2. Oswego State (3 first-place votes; 23-5-0)
3. Norwich (1 first-place votes; 22-6-3)
4. Adrian (25-4-1)
5. Plattsburgh (20-8-1)
6. Elmira (17-7-4)
7. Castleton (22-4-1)
8. Bowdoin (19-8-1)
9. Wisconsin-Superior (16-13-1)
10. Hamline (17-7-5)
11. Neumann (14-9-5)
12. Geneseo (16-8-2)
13. Utica (17-8-1)
14. Milwaukee School of Engineering (21-6-1)
15. Curry (16-9-3)