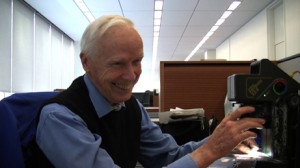 As a whole, the documentary is often a neglected genre market for the college-demographic. Many will refuse to watch a documentary when they can watch a more entertaining fictional film. But I encourage readers to stop and rent (available on amazon instant video renting or Netflix.com) "Bill Cunningham New York." The documentary focuses on an 80-year-old photographer who records different people wearing diverse clothing in the heart of New York City. Charming and undeterred by the riches of the elite, Bill Cunningham wins over audiences and proves that there are gems hiding in the city that never sleeps.
The film is a well paced and a good length documentary that is impressively entertaining. Bill Cunningham has two photo columns every Sunday in the New York Times, called "Evening Hours" and "On the Street." Both photo columns follow fashion trends from the elite, streetwalkers and even trash bag ladies. Never a paparazzi member, a believer in the spectacle, Bill Cunningham can be seen biking on his 29th bicycle (the other 28 have been stolen over his lifetime career) in a blue street-sweeper jacket, with his old film-stock camera, snapping pictures of anything and everything that catches his eye.
Fashion icons old and new appear throughout the film, from the assistant editor of Vogue Italia (Anna Winstour) to Brooke Astor, author Tom Wolfe, David Rockefeller, and even CFDA Lifetime Achievement Award Winner Michael Kors. All of which can only speak with kindness and adoration for a man who day and night, party to part
y, dedicates his life to what makes him passionate, clothes. Anna Winstour states in the film that, "We all get dressed for Bill."
"Bill Cunningham New York" is distributed by Zeitgeist Films, it was Directed by Richard Press and produced by Philip Gefter (a photography critic). Released originally into theaters on March 16th 2011, the film has made a splash in the film festival circuit, winning Best Documentary at the Nantucket Film Festival, Abu Dhabi International Film Festival, Melbourne International Film Festival (Audience Choice), and again for Audience Choice for Best Documentary Film at the Syndey Film Festival.
Anyone who has an interest in photography or fashion will find the movie a treasure of visual pleasure. Even if the viewer has no prior knowledge of Bill Cunningham, the film will immediately draw viewers through the photography alone. Bill Cunningham is a charming and gentle man that challenges people to look beyond the nine-to-five, tax dollars, pay wages and to seek out and follow the things that make individuals passionate.