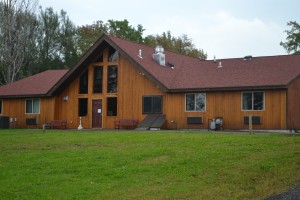 1881 Steakhouse closed on Nov. 12, 2013

I watch the sun finally submerge beneath the Lake Ontario skyline and a weight feels like it has been lifted off of me. At the appointed moment, at exactly 7:56 p.m., I lunge toward five pearly-white Styrofoam boxes. Each is filled with leftovers from the 1881 Steakhouse (located at 1881 County Rt. 1). Having marshaled all my mental energy, I resolve to reconstruct this meal chronologically from beginning to end.
You see, I have been observing the Islamic holy month of Ramadan, where for a whole month Muslims forsake both food and drink from the time the sun rises in the morning until it sets in the evening. While I myself am not a Muslim, I am adventurous and I wanted to understand this religious obligation, which one billion Muslims contend with every year.
Box number one contains the appetizers. After everything has been warmed up, I devour some leftover steamed-clams with butter and lemon ($3.50). I also inhale the complimentary roll, which is dense and difficult to swallow.
"They're salty and sweet, like clams should be," I can remember Ken saying of the steamers. "They could stand to be a little fresher, but it is a Monday."
Indeed, I may have eaten the clams quickly, but not so quick that I failed to notice the sumptuous aftertaste that glides in a diminishing to and fro across the palate.
Hours before, Ken and I had eaten dinner at 1881 Steakhouse. Actually, Ken ate dinner; I looked on with a face that simultaneously broadcasted desperate longing for the food I could not eat and resoluteness about not breaking my quasi-spiritual obligation. These Styrofoam boxes are the half of our meal I had saved for Iftar, the evening meal that breaks the fast.
The second box holds fresh cut cheese fries with bacon, scallions and sour cream ($5). The first handful of these is delicious; the fries snap when I bite into them.
"They're stuck together; that's usually a good sign in cheese fries," Ken had observed at the restaurant. Still, they are greasy, but that simply must be forgiven, because-they are potatoes with cheese and bacon. I cannot find a way to complain about something so fundamentally right.
Next up, a slice of steak from Ken's 12oz. prime rib ($19). It is lovely and tender, cooked to medium-rare. It was plated side-by-side with more fries, sumptuous grilled vegetables and Au Jus.
"It's not melting in my mouth, but it's very good. You can tell it still had some fight left in it, but not much," Ken said. Meanwhile, the grilled vegetables are perfect. Julienned carrots, florets of broccoli and cauliflower are juicy and seasoned to perfection. Ken of course pushes these aside.
He makes a better effort with the Caesar salad, part of my entrée. Since I couldn't eat with him at dinner, (in 1881's rustic dining room complete with animal head mounts and Adirondack-looking décor), I made him try a bite of salad. Although it took a few minutes, it yields one of the better quotes in the history of the English language. Because I do not eat all day, my short term memory has been evaporating around 4 p.m. each day, so I made sure to write it down:
"I'm going to be honest with you, I don't like salad. I don't even like lettuce, but I could eat this," Ken said.
And he was right. The romaine lettuce was left unchopped and grilled, so the edges are slightly black. It is presented uniquely, adding Caesar dressing, croutons and black pepper. For something so simple it was probably the highlight of my meal because it flared and dazzled across my palate. Since then, I have tried to recreate the dish several times which ended with similarly tasty results.
The last box contained my catfish ($15), seasoned with a Cajun-style seasoning blend that adds pop to an otherwise polite, but boring whitefish. However, the filet is a bit uneven, meaning one side is moist and delectable while the other is overdone. Still, that does not stop me from enjoying the fish's uncommonly enjoyable spice.
While I was observing Ramadan, my friend said something profound one night over dinner: "hunger is the best sauce." I now absolutely believe that to be true. Yet the 1881 Steakhouse's food is so good, one wouldn't need to be hungry to eat it. With well-conceived dishes and creative presentation, it was well worth the trip…even if I did have to wait to enjoy it.