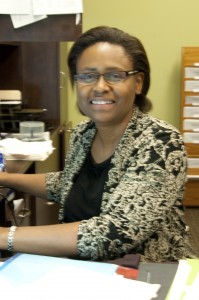 Marcia Burrell, associate professor in the School of Education, has a schedule that would leave most people feeling overwhelmed. She is the co-director of Project SMART, Chair of the Department of Curriculum and Instruction, and an active member in several different committees at Oswego State.
In April, Burrell won the President's Award in Faculty Service. The award is given to members of the Oswego State faculty who posses determination, dedication and contribute to the community, which ensures the school's excellence.
"From my perspective what makes Burrell so special and deserving of the President's Award for Excellence is her extraordinary breadth of talent," Chief Technology Officer Joseph Moreau said. "She is comfortable and exceptional in so many different arenas.
Burrell shares the credit with everyone that she works with.
"I think that everyone I know in this department, including me, and within the university works really hard," Burrell said.
One of Burrell's main endeavors is Project SMART, similar to an extra credit system for teachers in the K-12 system. Participants receive individual training to become better teachers by finding new strategies and a new approach to teaching, something that Burrell is very passionate about.
In the summer, those same teachers meet at the Project's "Summer Institute" and discuss a variety of different topics including English, music and languages. This year's theme was integrating the arts into the curriculum.
Project SMART and education reform go hand-in-hand, and like most experts in this field, Burrell cannot pinpoint the exact problem with schools.
"We're not teaching differently than we were 100 years ago, " Burrell said. "But our expectations are that their [students] are going to achieve better then they did 100 years ago." Through programs like Project SMART, it is Burrell's hope that public schools will improve.
Prior to receiving this award, Burrell had to ask colleagues for letters of recommendation. Many people supported her, which is a testimony to her love for her work at Oswego State.
"Much harder to put into words is the good effect of Marcia's advice to students. She consistently tells them, 'You can do this, it's important, get busy, fly right, work hard," mathematics professor Chris Baltus said.
Burrell's work continues in foreign countries. A few years ago Burrell started a study abroad program for education majors to travel to Benin in West Africa then to France with Barbara Garii, the Associate Dean of Student Education. Benin may lack financially what countries such as France or even America has, but still manages to create successful students, even teaching calculus in 10th grade.
"I always say to my students when they come back, I say, 'It's not all about resources, even though we need resources, it's about the will of the teacher and the will of the community to educate its people,'" Burrell said.
"What I appreciated most about working with Dr. Burrell was her ability to ask questions and not take anything for granted," Garii said. "As we designed the class together, as we taught together, and as we traveled together, she was always curious and she took advantage of every opportunity to learn more about everything. I look forward to continuing to work with her for years to come."