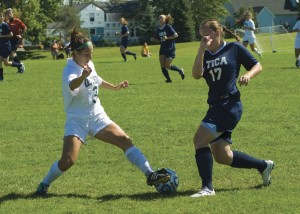 Sophomore forward Nikki Liadka continued her impressive start to the season on Tuesday afternoon, scoring both goals in the second half, as the Oswego State women's soccer team defeated Utica College, 2-1, at Laker Field.
Liadka netted her seventh and eighth goals in the final 30 minutes of regulation to rally past the Pioneers. With the win, the Lakers begin the season with a 4-1-0 record, which is their best start since beginning the 1997 season 4-0-0.
After a scoreless first half that featured nine total shots, seven total corner kicks and six total fouls, the Pioneers struck early in the second half to grab the one-goal lead. Utica's Samantha Spohler scored her fourth goal of the season on a rebound off a shot that was blocked in front by a group of Laker defenders. Utica's Chelsea Way fired a shot directed on net that was knocked down in front, where Spohler was able to corral the loose ball and put it past Oswego State junior goalie Emily Varonier to take the lead just 31 seconds into the second half.
"I thought we were tired," head coach Brian McGrane said. "It was our fifth game in a week and it definitely showed, especially in the first half. I didn't think we had a lot of energy. Even players coming in off the bench who were able to see what we needed to work on just weren't getting us to where we needed to be."
Liadka rallied the Lakers by tying the game at one with 29:06 remaining in regulation. Liadka was able to draw Utica goalie Samantha Glockling out of her net, giving her a wide open net after she was able to maneuver around Glockling in front of the goal.
"I feel like the whole year we've been a better second half team so it's good that we can pick ourselves up in the second half even if we're losing," Liadka said.
Liadka broke the tie with 3:03 remaining in regulation on a goal that was similar to her first of the game. After receiving the ball near midfield, Liadka dribbled down the length of the Utica defensive end on the right side of the field. Glockling again came out of her net to try and cut off a shooting angle, but Liadka was able to avoid her and serve the ball into the open net on the far side.
"All year we've done a good job in the second half of coming back in games or taking advantage of what the other team gives us," McGrane said.
The Laker offense was aggressive throughout the game, but the Utica defense was determined to not let anyone behind them. As a result, Oswego State was called for offsides seven times by the officials.
"You hope that when you're offsides that many times you're going to be onsides a few and we were," McGrane said. "Nikki did a great job of using her pace this year and capitalizing on two breakaways."
In just five games this season, Liadka has scored eight of the team's 15 goals. Junior forward Shelly Bateman and junior midfielder Kassie Kleine each have three goals, while junior midfielder Carly Olds has one goal. Liadka is averaging two points per game and 1.6 goals per game. She has already registered a hat trick this season against Alfred University.
"She came in this year in much better shape than last year, which is expected," McGrane said. "She played at a pretty high level over the summer with her club team back in Syracuse. She's been fortunate and we've been fortunate to surround her with talented players."
The Lakers outshot the Pioneers 12-6 and held a 9-2 advantage in corner kicks. Oswego State was called for nine fouls in the game, including a yellow card issued to senior midfielder Alexa Krebs in the 76th minute.
Varonier recorded two saves on three shots faced to earn the win in net for the Lakers, while Glockling made five saves on seven shots faced in a losing effort for the Pioneers.
The Lakers will host SUNY Cobleskill on Sunday, Sept. 18; a game that had to be rescheduled due to heavy flooding in the Cobleskill area. It's the last tune-up before the Lakers hit the road to begin conference play.