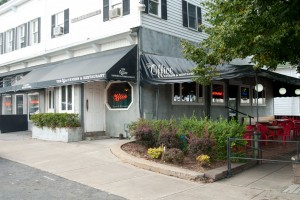 "I've literally never been to this place," Ken says as we sit down at The Office Tavern. That surprises me; as a Mexico, N.Y. native Ken Sturtz knows all the Oswego eateries and many of the people who work there. But when I ask other people about their experiences at "The Office," it is the most common answer I hear: 'I've never been there.' How can that be? It's on the corner of West First Street and West Seneca Street. The black and white exterior includes an awning proclaiming, "The Office Tavern." Still, the whole restaurant seems as if has been hiding in plain sight.
But when we study the menu, it becomes clear they haven't been hiding in shame. The selection is big, but well composed, consisting of American classics such as burgers, steaks and an array of tasty-sounding sandwiches. In addition to lunch and dinner, "The Office" also serves breakfast.
Ken and I are nervous; this our first review and we're fumbling miserably to appear anonymous. We both have notepads out. I'm struggling to piece together a combination of appetizer and entrée that will be best representative of the restaurant's quality, and Ken is jotting down details we will need to write our column. We turn the waitress away several times before we eventually order. Very plainly, we look like journalism people.
It's sunny outside, so Ken and I have perched ourselves on the patio under the canopy of two charming maple trees. But had we settled inside, we would have been able to press ourselves up against an expansive bar with 24 available beers and several more seasonals on tap. The bar's interior exudes folksiness (witness the old-fashioned telephone booth) but manages to stay modern. An LCD screen allows patrons to play Keno (unquestionably, the most fun way to lose a dollar in a bar). Inside the dining room is impressively constructed to maximize space in what would otherwise be a very small room. There is a loft and an underground nook in addition to the ground floor.
Finally, we allow the waitress to take our order. I was initially overjoyed to see a blooming onion on the menu; it is a personal favorite, and I haven't seen one in Oswego yet. Just having it available gets "The Office Tavern" major kudos from me. But most people can't handle the taste of unaccompanied onion. And right now I feel more like most people than like myself, so I order the chicken wings ($4.95) and a half-pound burger ($6.95). It is what the people want to read about, I figure. Meanwhile, Ken settles on a dozen steamed clams ($6.95) and a rack of St. Louis Style Ribs ($10.95).
Our food at "The Office" arrives promptly and at the right temperature. "I'm really impressed by these chicken wings," I say, a few minutes after they arrive, when both Ken and I come up for air. "Try one."
"Wow, these are pretty good." Ken's eyes have gotten bigger by now. He's a connoisseur of chicken wings and I can't count the number of times he's strolled into our office with a dozen in tow, minus a few. At this point, I'm not sure who has killed more chickens, Ken, or Coronel Sanders.
"They're really crisp on the outside, but still cooked through and very aromatic. But I can't quite place the flavors in this sauce." Ken takes the dish of sauce and dives his wing in with gusto.
"It's probably Frank's cut with something else," he says, referring to Frank's RedHot sauce. "I like it though; it really works."
Ken's littleneck clams are equally as nice. They're small, but refreshing. The bivalves are just as good drenched in butter as washed with lemon juice.
Then, our meals arrive. The meat on Ken's ribs pulls easily away from the bone and its textures and flavors hit all the notes a rack of ribs should. My burger is as portly as advertised with lots of fresh fixings including lettuce, onion and tomato. Even though the burger becomes messy as the bun allows it to slide around, the meat is juicy and compliments the veggies.
Yet, Ken and I notice that at "The Office," side dishes can be a problem, especially if you are looking for originality. My chips are unremarkable and probably from a bag. Ken's fries taste like they've either been thawed, or are otherwise uninventive. However, that doesn't mean these sides aren't well presented and easy to stomach because of the inexpensive meal prices. The potato salad arrives fairly bland, but the salt and pepper at the table allows us to season it to our tastes, and that's all it really needed anyway.
"How can we really know a place unless we try the dessert?" Ken implores. I want to skip, but he insists and I acquiesce. The waitress reads us a list and denotes the homemade pies. She says the dessert menu changes daily, which I like. It is nice to know in a world full of chain restaurants such as Applebee's or Ruby Tuesday, where the menu arrives from corporate, one can still find a place for American fare that serves dessert based on what the cooks felt like baking that morning.
As we chow down on peanut butter pie, the conversation flows easily along like the bikers and joggers on the sidewalk before us. As Ken and I take in the harbor view we discuss anything from the correct use of A.P. style, to local politics and the sex life of Charles Manson; we are not particularly attached to any topic. It's nice. After we pay our bill, both of us stuffed to the gills, we do what feels necessary: we take a nice long walk around Fort Ontario. Along the way, we fret about life and about work, but mostly about how in the world we are going to write that review.