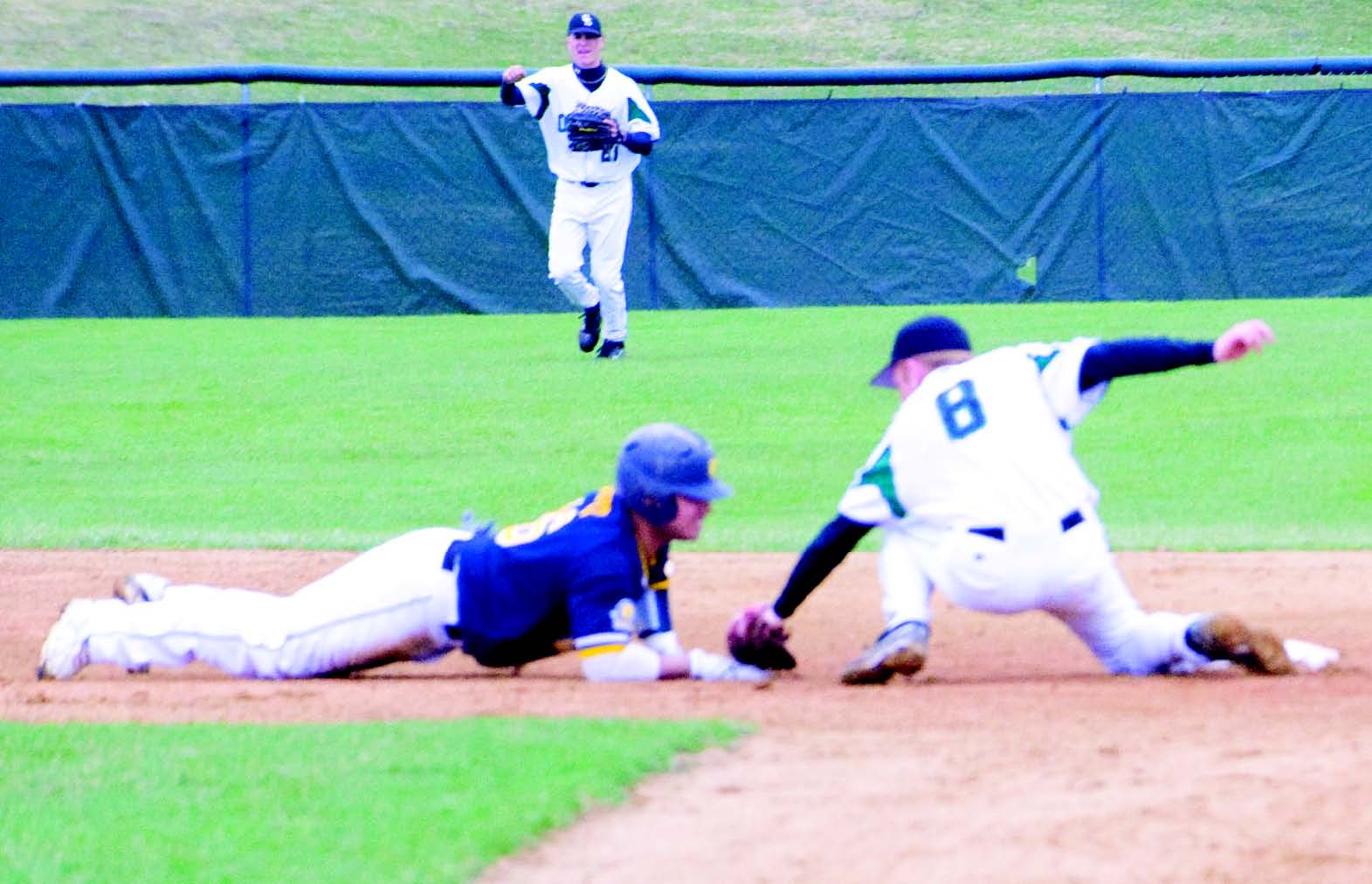 Hard work pays off. It's a motto Oswego State baseball coach Frank Paino has come to believe.
So it's no question that after spending over an hour shoveling ice and snow off of the field in preparation for Tuesday's doubleheader with Cazenovia College they would win both games by scores of 15-2 and 8-1.
"They put a lot of work into winning," Paino said. "When a team works hard you're not afraid of your opponent."
In Game 1, the Lakers struck first in the bottom of the first inning when freshman center fielder Scott Buniak scored his first of three runs in Game 1 off sophomore Matt Miller's single that also scored freshman Dan Maloney after freshman Pat Brown scored on an error.
"Everybody contributed today," Buniak said. "It's their job to get the guy over."
Freshman Tom Curry also added two hits and sophomore Ed Charles and junior Kris Prikazsky each had three hits to lead Oswego State in the hits categories.
"We hit the ball the other way and that's always important," Paino said.
On top of Buniak's three runs, he also added three RBIs to lead Oswego' State's offensive production. Freshman Pat Brown, Maloney and Miller each had two RBIs, while freshman Tom Curry, Charles, sophomore Mike Stark and freshman Tyler Baker knocked in one run.
Oswego State's starting pitcher Dan Erne retired Cazenovia's first six batters in order before giving up a base hit to Berly Estevez in the top of the third inning.
Throughout the game, Erne found himself able to get ahead of the batter in the count as he went all seven innings.
"It's more about coming out throwing first pitch strikes," Erne said.
Getting ahead in the count allowed him the ability to mix his pitches and trick the batters when he faced them. That turned out to be evident as he gave up only three hits, allowing two earned runs, walking two batters and striking out five.
After giving up its first hit in the third inning, Oswego State's offense fought back scoring six runs with two outs.
"With two outs we scored six runs," Paino said. "That's important; it's a good sign."
Junior Brady Farkas got the start and win in Game 2, allowing a run to score in the bottom of the first inning, but from then was in control of his stuff.
"Our guys picked me up," Farkas said.
Buniak picked up the offense with a one-out single and would eventually score. Curry, Miller, Charles and Prikazsky scored a run to put Oswego State up 5-1, a lead they would hold onto as Farkas pitched 5 1/3 innings of shutout baseball after giving up the lone run in the first inning.
"It's easier to pitch with a lead," Farkas said. "It's obviously good to know you don't have to be perfect."
Unlike Game 1 in which Oswego State scored six runs in back-to-back innings, the Lakers scored three more runs in the final two innings, as Buniak scored his second run of Game 2 in the fifth inning, while sophomore Mike Tarnowski and Baker scored one run in the sixth inning.
"We did a great job of rallying hits," Buniak said.
Farkas finished with two strikeouts and one earned run on five hits. Chris Nyman relieved him for the final two outs, giving up no hits.
Even though the wins against Cazenovia won't count on their conference record, it could turn out to be a momentum boost with seven games to go, including a Friday and Saturday match-up against SUNY Plattsburgh.
"27 games into the season it's going to click sooner or later," Paino said. "(Erne) showed a lot of character and guts today. We came out and did well. Both guys (Farkas and Erne) performance worked because they pitched tough and challenged hitters."