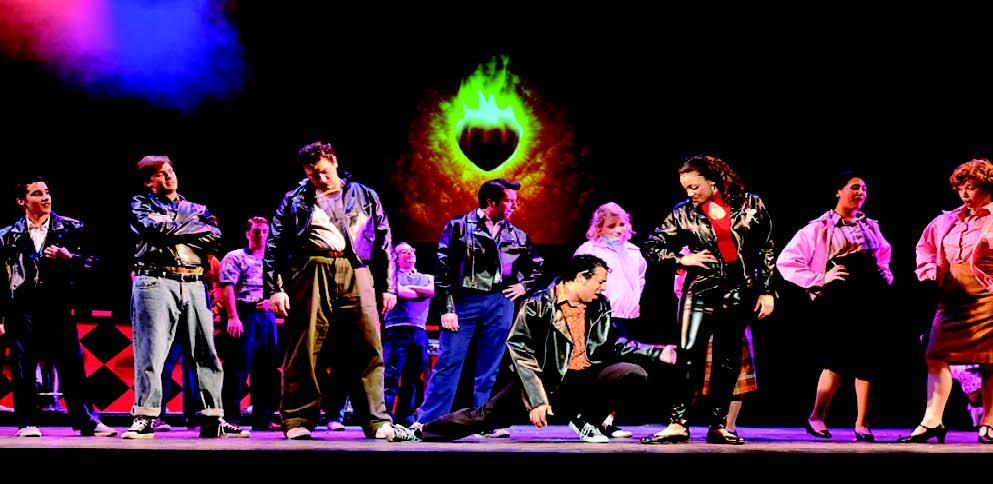 Why are audiences fascinated by teenage love stories? Two actors are immersed in a relationship that captures hearts, imaginations and a spot on the 'classic romance' list, all while maintaining a lustful, youthful engagement that gives parents heart attacks and a reason to tell the most significant person in their life, their child, that they don't know what love is.
This paradigm is ever so poignant in the theatrical performance of "Grease," a story littered with promiscuity and sexual harassment, and capped off with a touch of teenage pregnancy. It's also, as previously mentioned, a classic tale of passion.
The Oswego State theatre department debuts their rendition of "Grease" on Friday night, kicking off the department's final production in an academic year that has been incredibly entertaining. The strengths of the department—namely the abilities of the actors—shine again and largely carry this performance; however, a multitude of factors that play a smaller, yet still significant, role drag down the overall production.
The most glaring of these issues is a backdrop placed behind the performance that captures projections in order to create an atmosphere, either through a background landscape, random images loosely tied to the current scene or an odd combination of both. If these projections were just images, then they could be chalked up as a detail that enhances the ambiance; instead, these revolving graphics, which seem rather generic, distract from the on-stage activities.
A second detail that attracts far too much attention is the microphone model utilized by the cast. These microphones hang down each actor's forehead and are held up by an apparatus that wraps around the head. Every moment spent analyzing these bands represents time and attention that should be paid to the performance, but is, instead, wasted on a piece of capital.
Additionally, the wardrobe for certain characters is hit or miss, depending on the scene. It isn't that the characters are dressed in something that doesn't work; the problem is that the wardrobe is noticeably too large or too small for these performers. No matter how fluid an actor is, a poorly fitted garment gives off an appearance of discomfort. This is especially troubling when Sandy, one of the story's main characters, appears to be swimming in some sort of cheerleading costume, which gives off the wrong vibe, considering this is a story about teenagers and their cliques—and, in high school, the cheerleading squad is generally a lead cabal.
Nuisances and distractions aside, the acting is impressive and the cast's ability to dominate songs shines through. Erik Shuler is the show's vocal highlight, transforming the awkward Doody into a confident and commanding singer on the number "Those Magic Changes." The other noteworthy vocal performance escapes from Alexandra Renzetti's vocal chords; Renzetti uses her keen understanding of her character, Betty Rizzo, to provide the audience with the most emotional and most vulnerable moment in the entire performance—the number "There Are Worse Things I Could Do."
Danny Zucko, played by Jamine Coley, and Sandy Dumbrowski, played by Amber Hammonds, are the main characters in the story's plot, but Renzetti takes Rizzo out of the dark horse role and into the apparent lead. This isn't a knock on the Danny or Sandy performances, this is a testament to a performance that shines ever-so-brightly and leaves a meaningful, lasting impression on the audience.
The Rizzo character, in this performance, is the closest "Grease" can ever come to reality. She is complicated, hiding her festering insecurities behind an ego and an emotional barrier. The distance she creates is cool but, by the end of the show, is so apparently a camouflage hiding a fragile, young girl. She desperately wants to be loved and she craves the attention of her group of friends; all of this comes crashing down on Rizzo when the group learns she could be eating for two.
Perhaps the contrast between Rizzo—and, to a lesser degree, Frenchy, the high school dropout played by Jessica Quindlen—and the rest of the group provides the answer to the aforementioned question. Rizzo can be found in nearly any high school, and she displays the weaknesses that represent some of the most painful moments of the awkward teenage years. The other cast members deal with far more simple matters: peer pressure, rough patches in relationships and finding a date for Friday night's school dance.
These manageable scenarios provide answers that, usually, either lead to a memory or a forgettable night; in this case, simplicity ignores whatever indulgent behavior might occur, and leaves nothing but a feeling of innocence. The tough situations create scars, and leave behind nightmares; the type of situation that pushes a parent to fear for their own child's flirtation with the very same pain. The kids from Rydel High don't feel this pain, and that could very well be why audiences cherish them.
Outside of the acting, the performance boasts a second attribute that is worthy of praise: the band is phenomenal. Every song is infused by a great deal of energy, provided by the crew in the pit, and the saxophone parts, played by Ryan Bergman and Julia Garrison, are exceptional. It only seems fair, in a review that pays so much attention to the 'other' factors, that this portion of the performance receives its deserved recognition.
"Grease" is a classic performance, but, overall, a weak story. The Oswego State theatre department overcomes that issue and shows, once again, that a strong cast is the most crucial element in creating an entertaining show. It's just too bad that small characteristics, which should be entirely trivial, are capable of hampering such a talented cast.
Tickets to "Grease" cost $7 for Oswego State students, $12 for Oswego staff, non-Oswego State students and audience members over 60, and cost $15 for general admission. Performances are scheduled for each of the first three weekends of April, with 8 p.m. showings on Friday and Saturdays and a 2 p.m. matinee showing on Sunday, April 10 and 17.