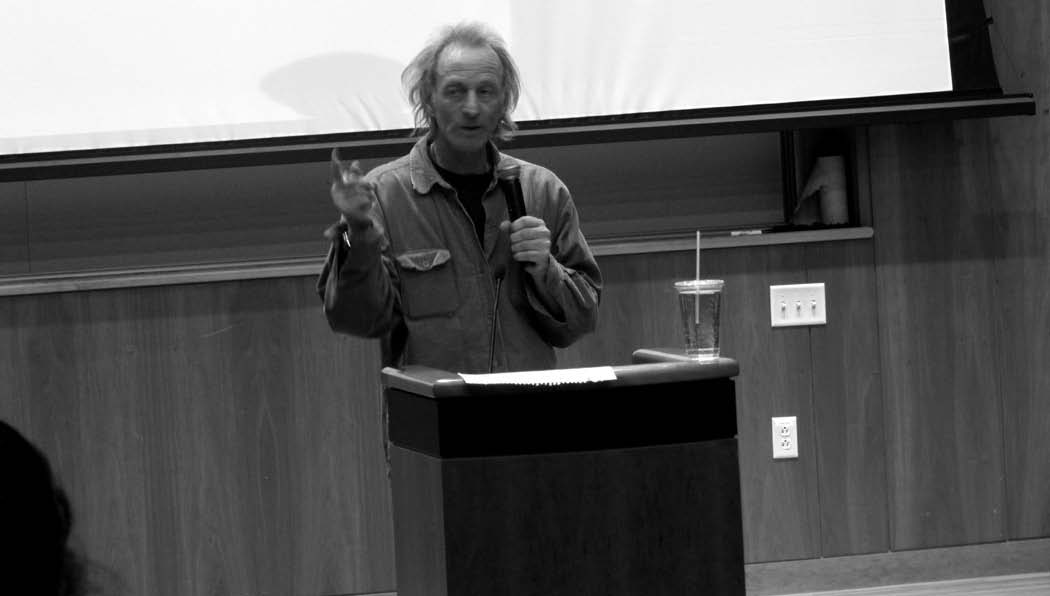 Pete Mullineaux is a poet that wrote and published his first poem, "Harvest Festival," when he was 13 years old. Later on, Mullineaux started his own punk rock band, The Resisters. The band recorded an album in 1979 but later split up and Mullineaux became a solo singer-songwriter under the name "Pete Zero." He won the 1986 City of London Poetry/Song contest with his protest song "Disposable Tissues" in support of a Campaign for Nuclear Disarmament.
Mullineaux published "A Father's Day," a collection of his poems, one of which he read during a March 24 talk entitled "Men Knitting." The poem was inspired by the play "Blood Wedding," written by Spanish poet and dramatist Federico García Lorca. Mullineaux takes the dramatic death scene from the play, which features children covering the stage with red yarn to symbolize blood and to symbolize men fighting in his own poem.
Aside from his poetry, Mullineaux explained how important feelings are in any situation, especially learning situations. He said that empathy is the most important thing and that "without empathy we are nothing." He said that feelings enforce opinions and attitudes, so therefore empathy leads to power. Along with the power of empathy, Mullineaux explained that in order to really reach out to people with the truth a "slant" is necessary, which is what happens in art. Art gives the truth much more power, Mullineaux said.
Mullineaux took his outlook on feelings and creativity to a group of alternative students and asylum seekers in a small village in Ireland. He made a short film about it, entitled "Under the Mask," which he showed on Tuesday. The object of the project was to encourage the different cultures to get to know each other and to realize there is only one race, the human race.
In the video, both groups made masks depicting who they were, or what they wanted to hide behind, and then shared their emotions and feelings with each other, which formed a bond.
Mullineaux taught these individuals about emotions and how to accept each other, not by lecturing but by giving visual examples for them to experience themselves, because, as he said, he "shows not tells."