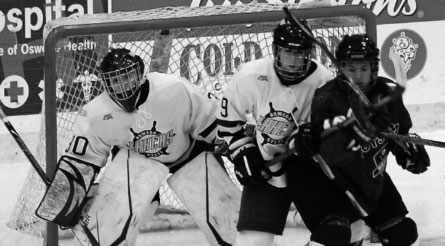 Oswego State women's ice hockey goalie, Emi Williams, will be graduating this spring. The Alaskan native has been the anchor of the Lakers lineup since her sophomore year, and has been the regular starting goaltender for the Lakers for the past three years. In total, Williams has played in 54 games with the Lakers. Although the team sometimes struggled during her tenure, Williams never let them down, maintaining a save percentage of over .915 for the past three seasons, staying focused even under stress.
When Williams began at Oswego State in her freshman year, the women's hockey program was just starting its second season of play. The program's youth eliminated prestige and a history of success as drawing factors for Williams.
"It was mostly the rink that got me," Williams said. "And there's a good broadcasting program, that was a plus."
Despite her recent success, Williams encountered problems during her freshman year.
"I had a rocky start," Williams said. "I don't think I would change it though. Having a tough start makes it so much better now. I was homesick, I got sick a lot, I barely played, but I pulled myself together and now I'm playing all the time."
Williams has certainly proven she is a force to be reckoned with in goal. During tough games she often manages, with the help of the defense, to keep the score low.
Now that her career is coming to a close, Williams has come away with not only an impressive track record in hockey, but also an array of life experiences.
"I had never been on a plane by myself before I came here. It took some getting used to but now I'm sick of that flight," Williams said. "I learned how to work hard. And I made some good friends."
It was obvious, by the team speeches and tears on Senior Night, that Williams has made some close bonds with her teammates during the course of her four years at Oswego.
"Being on the team, you have 25 instant friends whether you like it or not. You just develop relationships that I think you keep for a long time," Williams said. "It's not as much the hockey, the actual playing, as it is the people you meet doing it."
Of all the games that Williams has played there have been two that have been most memorable. Both were against the top-ranked team at the time.
In William's junior year, the Lakers lost to SUNY Plattsburgh, 3-2, on Senior Night. Although it was a loss, Williams still counted it amongst the best games of her career.
"Senior game last year, that was a big win or a big almost win," Williams said. "I think we all played really hard that game. It was memorable, everyone was crying."
This season the Lakers pulled off the biggest win in program history against top-ranked RIT. Williams was a huge part of the win with 46 saves.
"I think I can retire now that we beat RIT; that was awesome," Williams said. "That was a really nice ending, but we're not done yet."
The Lakers enter the post-season on Saturday and will face Neumann University on the road. During the regular season, Oswego State split their series against Neumann, and now Williams and the Lakers look forward to facing them again.
"We have beat Neumann before and we are going to do it again," Williams said. "If we play like we can, we will beat them."
If Oswego State beats Neumann they will move on to the semifinals and face either RIT or Plattsburgh.
"RIT is gonna be out for blood if we play them again," Williams said. "Plattsburgh is a tough team to play too. They were a lot more physical than RIT was; they knocked me all over the place."
No matter which team they play, Oswego State will be playing a tough game and Williams will have to be prepared to defend against an offensive barrage. Despite the intimidating idea of playing one of these two teams, Williams sees it all as just another opportunity.
"We are still at the point where we are the underdog and people still have the image of us in their heads that we are an under .500 walk in the park kind of team," Williams said. "I think we are going to surprise a lot of people"
As far as hockey goes, Williams has had a great capstone to her career with the RIT win alone, however, the unfortunate part about playing women's ice hockey is that after college there is nowhere else to go and Williams is now facing that reality.
"Hockey is done, so that's kind of sad. It sucks that there's nowhere we can go play; well there is, but it's not like guys hockey," Williams said. "I feel like I just got warmed up and now I have to quit."
As far as keeping hockey in her life Williams would be interested in coaching, but with a limit.
"I'd like to coach little kids. It would be fun to be a goalie coach," Williams said. "I wouldn't want to coach kids older than 12. That's when they stop being cute."
Aside from hockey, Williams has plans, but they do not include going back to Alaska.
"I think I'm going to move to Texas," Williams said. "It's warm and I have family down there. I'd like to try to get in with some little production company. I like to edit and make movies."
No one can blame her for being sick of the cold between Alaska and Oswego.
"A lot of people get sucked in and never leave Alaska," Williams said. "I don't want to be one of those people."