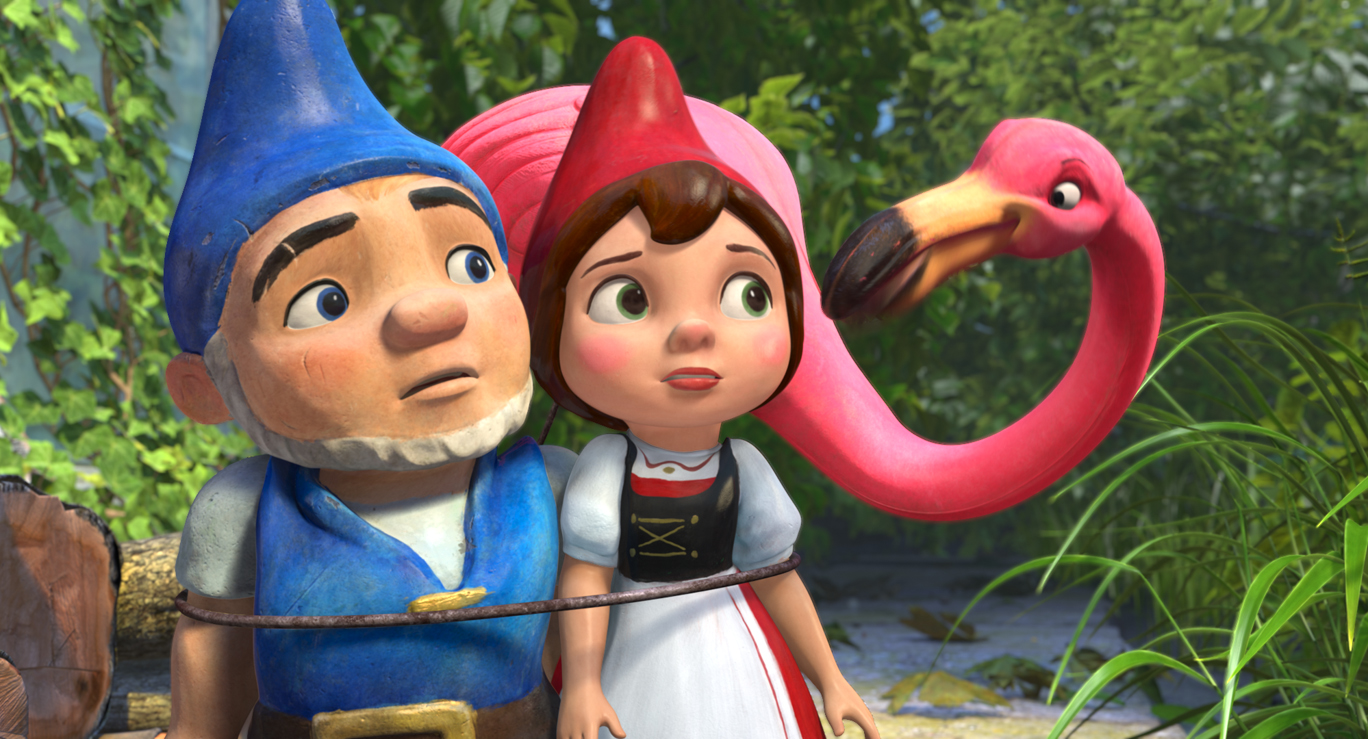 The works of William Shakespeare have seen their fair share of creative adaptations over the years. In particular, "Romeo and Juliet" has been the basis for a musical, "West Side Story," a modernized film adaptation, "Romeo + Juliet" and even an anime series, "Romeo X Juliet."
Now, in 2011, the timeless story of tragic romance is being told through yet another media: a backyard garden and its lawn ornaments. With clever writing, an all-star cast and effective use of its 3-D technology, "Gnomeo and Juliet" is a charming new take on an old classic, suitable for all ages.
The basic story of the original play remains fairly unchanged. Following an homage to the prologue of Shakespeare's tragedy, the film opens on a conflict between two neighboring house–no, not households but rather structures–the Capulets and the Montagues. Both are constantly feuding over trivial matters so much that even their respective garden gnomes are at odds with each other, with the Montague Reds constantly planning the demise of the Capulet Blues. Among the most competitive of the Blues is the titular Gnomeo, voiced by James McAvoy, ("Wanted"), who suffers defeat during a lawnmower race at the hands of Tybalt, voiced by Jason Statham ("The Mechanic").
Eager to regain his house's honor, Gnomeo sneaks into the Blues' territory with the help of his friend Benny, voiced by Matt Lucas ("Alice in Wonderland"), who represents a combination of both Benvolio and Mercutio from the original Shakespeare play.
Meanwhile, the beautiful Red, Juliet, voiced by Emily Blunt ("The Devil Wears Prada"), is tired of being looked down upon as being frail and delicate and decides to sneak into an abandoned garden down the street to pick a beautiful flower growing at the top of a greenhouse. It is here she runs into a disguised Gnomeo, who escapes to the garden after his sabotage attempt fails. Once the two meet, they instantly fall in love with each other, and the story of the original classic follows.
As mentioned, the film's writing is fantastic. Despite its G rating, the plot is fairly accurate to the original play, going so far as to address some of the less-than-family-friendly parts of the story, such as the death of Tybalt. The film even acknowledges the play's double-suicide ending, resolving it in a clever way that is faithful to the original play without being as dark and depressing.
In addition, there are a number of other tongue-in-cheek references to Shakespeare's other works, including "Hamlet" and "A Midsummer Night's Dream," that anyone even vaguely familiar with the playwright's work might easily recognize.
The film's cast is a well-known lineup of talented British actors. McAvoy and Blunt are great fits as the two main protagonists, and Statham's role as Tybalt displays a notable amount of acting variety on his part.
Rounding out the cast include Michael Caine ("The Dark Knight") as Lord Redbrick, leader of the Red Garden and Juliet's father, and Maggie Smith (the "Harry Potter" series) as Lady Blueberry, leader of the Blue Garden and Gnomeo's mother. Also lending their voice talents are rock legend Ozzy Osbourne as the foul-mouthed deer Fawn, a friend of Tybalt, and Jim Cummings (TV's "Darkwing Duck"), as the film's equivalent of Friar Laurence – a Spanish-accented flamingo named Featherstone. Patrick Stewart (TV's "Star Trek: The Next Generation") and wrestler Hulk Hogan also make notable voice cameos.
The film boasts a wonderful soundtrack, with a musical score written by James Newton Howard and a number of songs by Elton John, who also serves as an executive producer for the film, being featured throughout. As odd as it may seem at first, the inclusion of Elton John's music is interestingly fitting, particularly in an early scene between Gnomeo and Tybalt, when "Saturday Night's Alright for Fighting" plays over a lawnmower race in between the two gardens.
Also included in the soundtrack is a cover of "The Tiki Tiki Tiki Room," which is an extremely odd song cameo of sorts. The song was originally written for an attraction at Walt Disney World in Florida, and the Disney-owned label Touchstone Pictures is distributing "Gnomeo and Juliet."
As a 3-D film, it makes fairly good use out of its 3-D technology, with many scenes utilizing the effects just enough to be worth the higher ticket price, and not being too obnoxious about it either. While not quite the greatest use of the latest advances in 3-D technology, this film seems to do a better job than many of other recent films boasting the technology.
Though "Gnomeo and Juliet" is indeed written for children and families, it would be foolish to write it off as solely a family affair. Beneath its cutesy animation style lies a humorous and highly self-referential take on one of the greatest pieces of English literature. Viewers young and old should take a look in their backyard with this charming film.