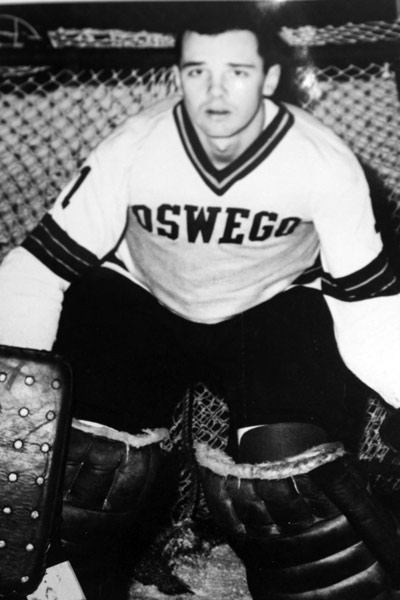 It takes a special breed to be a goaltender in ice hockey. 100mph slap shots, acrobatic moves and equipment at times that doesn't help keep away the bumps and bruises are just part of the job.
But it takes a very special breed to be an All-American goaltender that has served his country, won a silver medal in the 1972 Olympic winter games, and gave back to a university and his community for over 30 years. The man who fits this description is Pete Sears, Oswego State's goaltending coach.
Currently Sears lives in Florida. He spends the first half of the academic year with the Laker hockey team in Oswego before heading south for the spring semester. His hockey days started out in his hometown of Lake Placid, N.Y. Today, Lake Placid is known for the 1980 Winter Olympics and the "Miracle on Ice." But Sears' beginnings with the sport he loves began much earlier than 1980, as did the growth of hockey in Lake Placid. In 1932 the first Olympic games Lake Placid would see were held there and the hockey buzz has not left since. Sears credits the Olympics for producing many great hockey players from the area in the years following, such as himself.
"Growing up everyone was aware of the history Lake Placid had," Sears said.
As well as being a part of Lake Placid history, Sears has connections through family to the '32 games. This combination made it his dream to compete in the Olympics. This dream would lead him to Oswego State, a place that he credits for everything he has accomplished.
"I always say, every good thing I've had happen to me is because of Oswego," Sears said.
The path to Oswego State began in 1965. Pete was recruited by some of his friends from high school that already played on the Oswego State hockey team.
At the time, the Laker hockey team was very young, and an independent school. The Lakers competed against schools and teams from Canada and New York state, such as York University, which was the top-ranked collegiate hockey team in Canada, and Division I schools such as Cornell, who later had a future NHL Hall of Famer in their goal crease, Ken Dryden. The heavy competition helped Sears reach All-American Honors in becoming the first player from Oswego State's hockey program to do so. The honor gave him the confidence to try to achieve his dream of playing for the Olympic team in 1968.
Olympic tryouts are different then they are today. No invitations are needed by a coach, anyone could just show up and tryout. Sears did, but after the first tryout day head coach Murray Williamson approached Sears and told him that the team was already picked, but he had a chance to get some exposure for future Olympics. Sears stayed for the four days of tryouts and his hard work paid off. He was offered a spot on a team in Green Bay, Wis. There he was under the watch of Olympic coaches for the next few years until the next Olympics came around. However, his stay in Green Bay was short lived.
"I did that for about four months until I got my notice that I was being drafted into the Army," Sears said.
Sears was very brief when discussing his experiences in the Vietnam War.
"I felt like my life was coming to an end and everything was being taken away," Sears said.
His dreams and goals would be put on hold for a year while he was serving.
"There are two or three life changing moments everyone has and being drafted was the biggest in my life," Sears said.
Sears believed that the war matured him. After the war he had more goals for himself and upon his return back he expressed interest to coach Herb Hammond in coming back to Oswego State to finish his education and playing career. Sears was welcomed back to his crease right away. But before he could resume his education at Oswego State after the war, Sears had another life changing experience.
"One day I'd be fine, the next I'd have a temperature of 105," Sears said.
He went to the local doctors in Oswego and after several blood tests nothing was found.
"My father was extremely concerned still and sent me to the Veterans Hospital in Syracuse," Sears said.
There they discovered he had come down with malaria on his way back from the war.
"I dropped 30 to 35 pounds in two weeks… I felt like I was dying." Sears said.
He would bounce back and was ready for hockey by the time the season started. Sears graduated from Oswego State in 1971 and still held onto a dream he had yet to achieve. He contacted Williamson about his interest in competing for a spot on the Olympic team. Williamson offered him a spot on a summer league team in Minnesota so he could watch him play, since he had not seen him in a few years. Sears was married, had a daughter, but still followed his dream to Minnesota. After a few months without hearing from Williamson, Sears left for Buffalo where he was offered a tryout for the NHL's Buffalo Sabres. While skating with the likes of Gilbert Perrault and Rick Martin, he received a call.
"My wife called me from back home and told me Murray Williamson called and was looking for me," Sears said.
A confused Sears called Murray right away.
"He asked where the hell I was, tryouts were tomorrow and he wanted me there," Sears said.
Quickly, he packed up and headed back to Minnesota where he participated in the nerve-wrecking tryouts.
"Everyone always asked how excited I was about being at the tryouts, I always told them I wasn't," Sears said. "You didn't know if you'd get your name called into the office to be sent home."
Sears would never know this feeling.
"I called my family and told them, and I don't think they could believe it," Sears said.
During the pre-Olympics exhibitions Sears took most of the teams reps in net. In 22 games played, he recorded a 3.41 goals against average. In a time where equipment was smaller and twice the weight for a goaltender, this was an impressive statatistic. During the Olympic games, teammate Mike Curran took the reps in net because of his experience, but Sears was truly happy to just make the team after everything he had previously overcome. He supported his teammates and did whatever he could on his way to becoming a silver medalist.
After the Olympics, Sears continued his hockey career for a short time in St. Petersburg and Columbus, playing minor league pro hockey before hanging up the skates. He again returned to Oswego and became a middle school teacher for 30 years. For 23 of those 30 years he coached Oswego's high school hockey team that captured 10 league championships. His achievements would get him elected into the New York State High School Hockey Hall of Fame in 2000.
While working in the Oswego area, Sears was hired as the goaltender coach for the Lakers, which he still holds today.
"It keeps me young," Sears said.
Oswego State's current head coach Ed Gosek has worked with and known Sears for many years.
"It's never about him, he's a very humble man," Gosek said.
Gosek said during practices Sears will take the goalies aside and work with them for about an hour.
"Pete never tries to change a players game, whether a guy's a stand up goalie, butterfly goalie or hybrid, he always helps a player develop their own style," Gosek said.
Oswego State's starting goaltender Paul Beckwith also had nothing but praise for his coach.
"He's a terrific guy, very approachable," Beckwith said. "The mental aspect of hockey and his ability to listen to his players is what coach Sears brings to the table the most."
While in Florida during the spring semester, Sears still keeps up to date with his players with phone calls and e-mails a few times a week. When he can, Sears watches the games on the Internet or listens on the radio.
Sears believes Oswego State has had so much success over the years because of coaching continuity. Since the '60s, Oswego State has had only five head coaches, during which the school has had only one goalie coach: Sears.