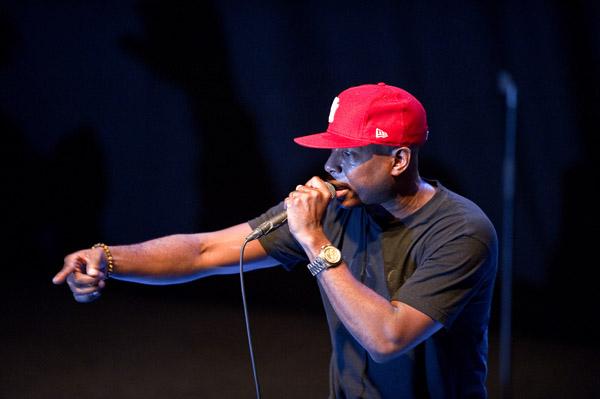 With the hip-hop scene being taken over by young artists straight out of high school and kids from the suburbs, it's easy to say the game is going through some serious changes. But that's no reason to forget the veterans in the game that are still alive and kicking. That being said, let Talib Kweli remind you what it's all about in his latest independent release, "Gutter Rainbows."
If you're just looking for an album with catchy hooks, overdone beats and cliché lyricism, then "Gutter Rainbows" is not for you. Known for his dynamic wordplay and distinctive flow, Kweli has rightfully earned his spot in the world of hip-hop. A Brooklyn native, Kweli has been a musical rebel who doesn't hesitate to call out those who need a wake up call since his underground debut in 1995.
This is Kweli's fifth album and first independent release in four years, but after 50 minutes of complex rhymes and raw talent, it's clear to say "Gutter Rainbows" has achieved its musical summit. The album opens up with the calm, comical introduction "After the Rain," only to be completely overwhelmed by the lyricism and hard drop of the following song, "Gutter Rainbows."
For fans of Kweli who appreciate his usual style of prophesied lines and take-no-prisoners flow, you'll definitely be hooked. Kweli also goes off in other songs like "Uh Oh" and "Palookas," and continues to prove that there's no holding back.
For Kweli fans that may be more accustomed to the emotional side of his craft, fear not for he delivers. Deeper into the album, it takes a considerable turn into a soulful, more passionate style. This transformation kicks off with "Cold Rain," a heartfelt outcry that doesn't get any realer. It continues with his personal shout out "Friends and Family" and hits hard with "How You Love Me."
The album closes off with a impactful song featuring Chace Infinite called "Self Savior." Its catchy beat and classical piano, mixed with Chace Infinite's words of wisdom make it a song worthy of an album's finale.
Although Kweli's music and wordplay in "Gutter Rainbows" forces you to sit down, listen and soak in the message in his lyrics, the album does have its flaws. With an artist like Kweli, fans don't expect much less than his usual hip-hop poetic justice. But some songs like "Ain't Waiting" do not seem to stand up to his usual fire, sounding more like a typical radio hit.
"Gutter Rainbows" is definitely an album worth checking out. Any hip-hop fan should appreciate the intricate flow and unique knack for poetic wordplay that is possessed by Kweli.
"