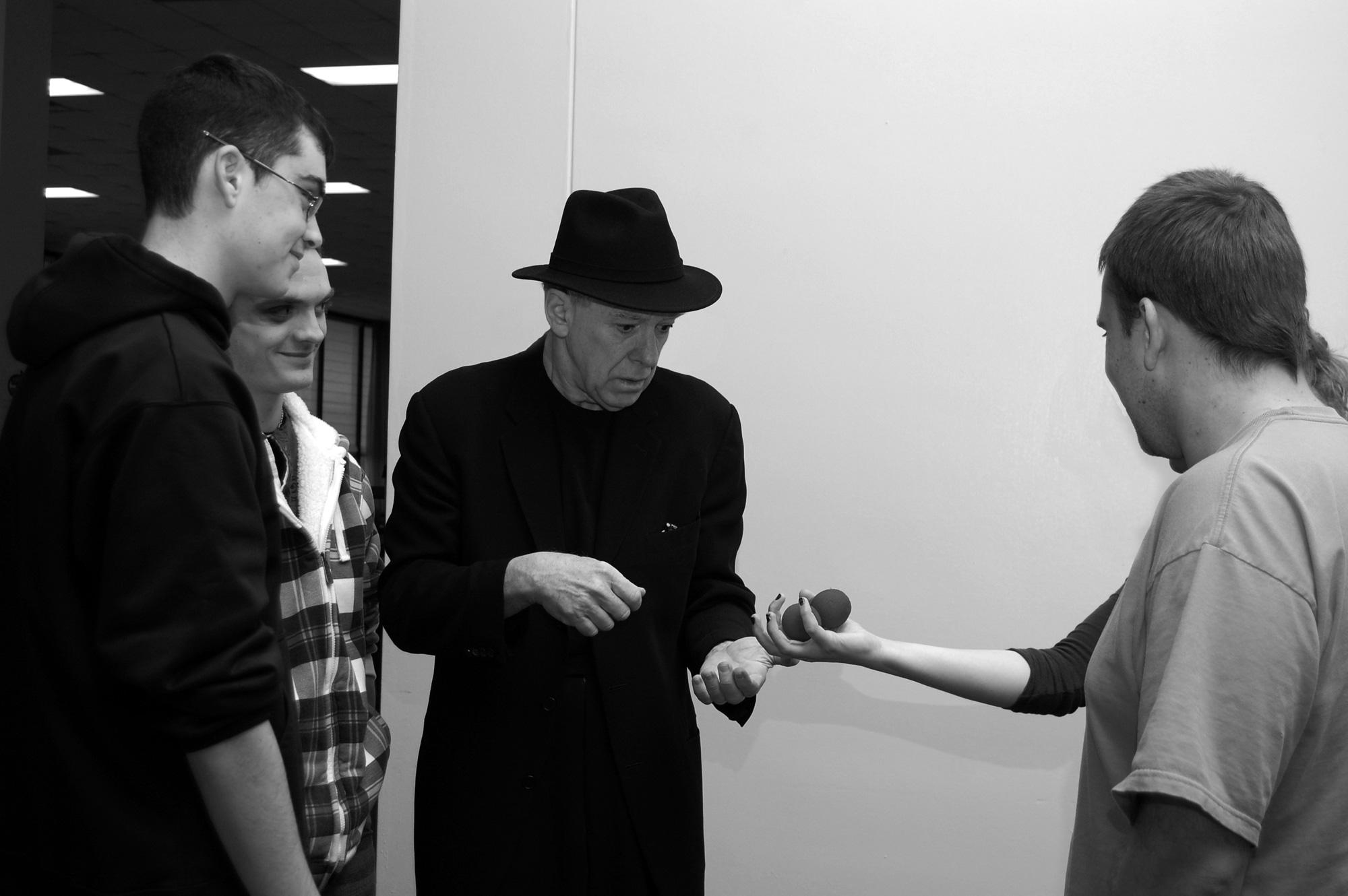 To kick off the spring semester, ARTSwego brought comedian Dan Kamin to Oswego State for a week of workshops, class presentations and performances. Kamin has performed all over the world, most recently in parts of Asia, including Taiwan and Malaysia. He is also the man behind creating the physical comedy sequences in the films "Chaplin," starring Robert Downey Jr., and "Benny and Joon," starring Johnny Depp.
Kamin has performed as a magician since he was 12, but attended Carnegie Mellon University for industrial design. While in college, Kamin watched Charlie Chaplin's 1925 film "The Gold Rush" and thought creating humor without dialogue was "cool." Kamin added, "Going to that Charlie Chaplin film that night changed everything for me."
After the initial inspiration, Kamin worked with a professor who specialized in mime performance. Though he started off as a traditional white-faced mime, Kamin transitioned into the physical comedy seen in silent films.
Kamin wrote the book "Charlie Chaplin's One Man Show" in 1984, which caught the attention of Downey Jr. as he was preparing for his role in "Chaplin." As a result, Kamin was hired to train Downey Jr. and worked on the film for four months, during which he had the daunting task of creating sequences that showed Chaplin creating his characters and auditioning for roles. Kamin compared the experience to rewriting Shakespeare.
While visiting Oswego, Kamin presented a collection of his one-man shows on campus. He performed "Funny Bones – The Comedy of Charlie Chaplin" on Wedensday; mixing entertainment and education, Kamin deconstructed Chaplin's work in order to highlight the elements that contributed to his comic genius. The night included audience participation, a viewing of one of Chaplin's short films and culminated with Kamin re-enacting Chaplin's famous roll dance from "The Gold Rush."
Friday night, Kamin will perform another one of his shows, "Comedy in Motion," which he described as "a cheap evening of expensive comedy;" the performance will focus on the physical comedy of the 21st century as well as lampooning modern performers. Kamin will also perform at Warm up Oswego as "The Pantomime Man." This show was designed specifically for children and brings Kamin back to his roots as a whiteface mime.
Throughout the week, Kamin also roamed through the dinning halls in slow motion and joined dinners to show some magic and sleight of hand. "It has a strange affect on people because it is weird. It's like normal life but with a different dimension." In addition, he talked to classes on various subjects, including Chaplin and his role in the history of the 20th century and physical comedy.
Kamin's goal while at Oswego is a simple one: "I want to make people laugh. That's about it." Beyond that goal, Kamin is glad to be part of the arts community.
"The arts in general are photo albums, that's how we talk to each other, that's how we know who we are," Kamin said. "I'm just so pleased to be part of that way that we all talk to each other and understand each other on the deepest level."