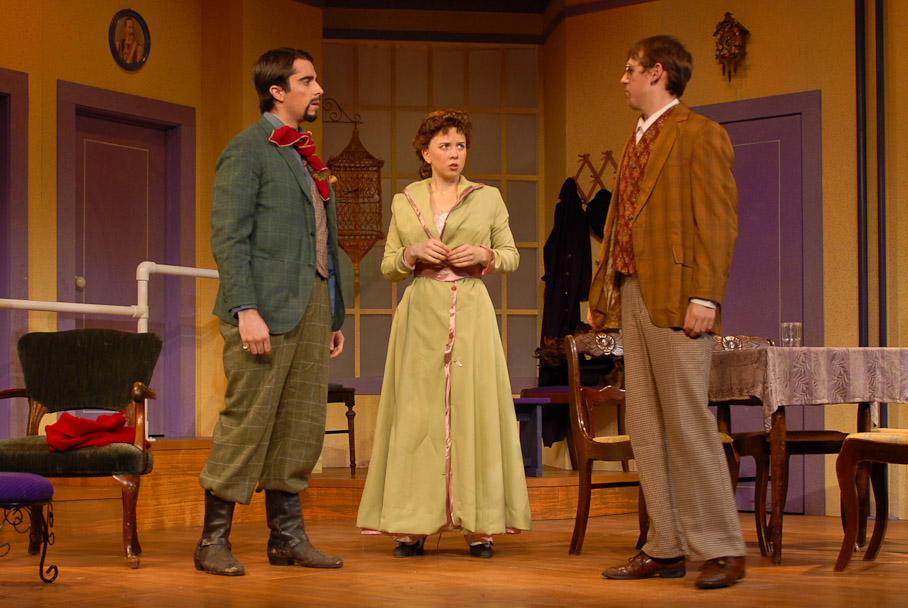 "Tension blooms in the student honors production of "The Underpants," after a "little housewife," as her tender husband so eloquently puts it, drops her drawers and gives the King of Germany a salute for the ages.
"Although she quickly gathers her trunks and covers her anatomical confusion, Louise Maske, the unforgettable and accidental flasher played by Jessica Quindlen, discovers that a brief view of female flesh is enough to send men into a rage.
"First it's her husband Theo, played by Knate Roy, who recognizes the vast attention his wife will receive as a flame lit to the contract that binds him to his bureaucratic title. He is a stubborn, simple man that views his wife as an extension of his own being; they aren't one as lovers, but, rather, she is his property and is, therefore, a representation of himself.
"He is a repugnant chauvinist, a coward terrified of intellectualism and a character that oozes of pompous hatred the moment he makes his entrance onto the stage; and all of that is a compliment to Roy, the actor who puts on a performance that tugs at the audience's emotions –even if they are the wrong ones.
"His rage is followed by a more conventional male reaction: passionate lust by Versati, an unpublished but self-declared poet, played by Dylan Duffy. Versati pounces on his chance to court the royal pervert, and uses his rich vocabulary to transform her into a hunter seeking an extramarital lover.
"The wordsmith strikes a deal with Louis for the vacant room in her flat; for him it is a place to sleep and craft poetry, and for her it is the chance to escape her husband with a man that understands the meaning of love and knows how to spell it. Duffy is an enjoyable aristocrat, and it's hard to find any compelling reason to hope that he doesn't get the girl.
"But as the gushing gal schemes her affair with her pal Gertrude, played by Olivia Zeis, her husband walks in with another suitor –both for the room and for the unexpected exhibitionist.
"Enter Cohen, played by Jacob Lauria, a feeble man who hides his identity and his intentions. He occasionally slips with his words and reveals himself to the audience as a member of the tribe, a potential mistake in early 20th century Germany, but he is wise enough to hide his desire for Louise until they are alone.
"The two gentlemen are asked by Theo to share a room; they have no trouble retiring in the same quarters but are determined to fight for the girl's affection –a power struggle that somehow eludes her husband entirely.
"Theo and his contemporaries arise as the stars of the show and depict an unfortunate message that must be the root of something deeper than toilet humor; society, at the time, was meant for men, and women were simply objects to posses.
"For a modern audience, cultured by generations of progressive thinkers, this is an easy observation to look past, but it raises an important question: is romantic desire truly bound to the mythical notion of love, or is this merely a genetic disposition that encourages us to use one another without the consideration of feelings?
"It is worth noting that "The Underpants" is an adaption of Carl Sternheim's play "Die Hose," which was penned in 1911. The Oswego State performance, directed by Aaron Londraville, was written by comedian Steve Martin ("Roxanne"), who took his liberties to make comments on women's rights and sexuality, which is honed with the female characters.
"Gertrude is a feminist of sorts; she encourages Louise to pursue her desire for Versati and is somewhat outspoken about Theo's pigheaded attitude. She wants Louise to use her good looks as a means of collecting power, and as a means to bring an interesting story to an otherwise boring house.
"But besides that aspect, Gertrude is a particularly difficult character to understand. She reveals her age to be 42 years and hints that she has never tasted love, but she also acts as a veteran coaching an amateur in the dating realm –an amateur that already has a husband. Gertrude is an older, lonely woman, but she operates with enthusiasm and passion. Her descriptions conflict with each other, but that is ultimately something to overlook; her wig, on the other hand, is an eyesore.
"Louise, under Getrude's coaching, grows from an obedient housewife and into a defiant woman who uses her intelligence and beauty to stalk what she wants. She is meek at first, but she develops into an authority with a sense of self-importance. It is hard to tell if Louise is the main character of the story or if she is simply a bridge to bring the three men together; either way, her character is enjoyable and her performance meshes nicely with Zeis's to give the play a powerful duo of actresses.
"The one true disappointment of the performance is a peculiar set design for a short series of steps leading to three doorways. Each door is positioned at the same level, but the floor before the entrances is continuously elevating in height, forcing the actors to duck as they enter the room at the top. The stairwell is also guarded by a railing that appears to be crafted out of white plastic tubing, a peculiar choice for a set that is mostly flawless.
""The Underpants" is a fine demonstration of the theatre department's student talents. It is an impressively witty play that makes perfect use of double entendres and is a fitting performance for a college audience.
"The performance will run on Friday and Saturday at 8 p.m. in the Lab Theatre of Tyler Hall and will conclude with a Sunday matinee showing at 2 p.m. Tickets are $7 for Oswego State students, $12 for faculty and seniors and $14 for general admission.