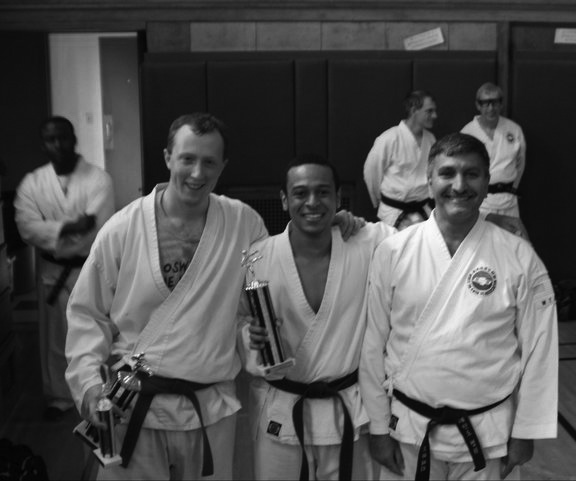 "Hessvacio Hassan, currently a Tae Kwon Do purple belt and a junior at Oswego State, won thee Brown Belt Sparring Tournament on Oct. 16, 2010, defeating MIT's Phil Bordens, who has since graduated from a brown belt to a black belt.
"Hassan was the only purple belt to go to the tournament, leaving him with the option to accept a trophy for showing up, or competing against the brown belts.
""The feelings have past, but when I was walking on sunshine after the tournament," Hassan said. "I could not believe I did what I did, making history and all. I realized it makes me a target for next tournament, so I have to bring training up to a whole new level."
"Hassan plans to take his martial art test in December, where he will graduate to a brown belt. The brown belt is the second highest color belt a fighter can achieve. Hassan did not always do Tae Kwon Do. He started out riding his bike along the board walk located near Far Rockaway, Queens. Hassan revealed he was never in any athletic leagues as a child, but he did play baseball with his brother for fun.
"Hassan has been doing Tae Kwon Do since his freshmen year at Oswego State.
""Ever since I watched the power rangers, I wanted to do martial arts and had to join once I got to Oswego [State]," Hassan said.
"He claims he would have started martial arts earlier but his family could never afford lessons.
""When I learned I can practice in college for free I jumped at the opportunity," Hassan said.
"During Tae Kwon Do practices, the team starts with the basics. They do sets of punches and kicks, the fundamentals of the martial art. Next, they do forms, which are sets of choreographed moves that pertain to an individual's belt level. After sparring with everyone, including the black belts and the instructor, Rameen Mohammadi, they end practice with three sets of counter moves and warm down exercises. Hassan admits the practices are an intense workout.
"Still, he has gained "Speed, Power, Balance, Focus and Control" from practices. Not only this, but as a freshman, Hassan was 240 pounds. However, Hassan has lost 70 pounds by eating healthy and partaking in Tae Kwon Do. Hassan said he would definitely continue Tae Kwon Do after college especially because of the networking between Oswego the Tae Kwon Do club. He will always have somewhere to train during breaks and after graduation.
"Hassan compliments Mohammadi, calling him "amazing."
""I would not be at my skill level if it wasn't for him and everyone that pushes me in the club," Hassan said. Hassan gave recognition to everyone in the club, for encouraging him in every practice. Hassan believed thanks should also go to S.A. for "giving us the funding and opportunity to represent Oswego [State] in these Tae Kwon Do tournaments."