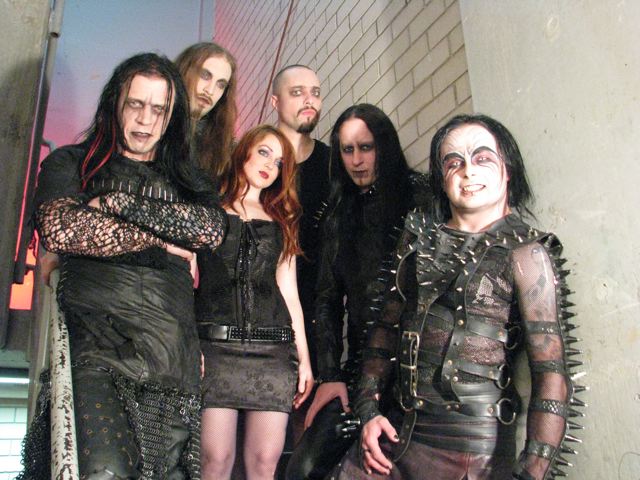 The highly anticipated release of Cradle of Filth's 10th studio album has finally arrived. "Darkly, Darkly, Venus Aversa" is a dark tale about the mythical demoness Lilith mixed with gothic horror, medieval folklore, Greek mythology and occult themes; this fits well with Cradle of Filth's other albums, which generally have historical references. Cradle of Filth uses a variety of styles in their music, making it incredibly hard to classify them as a specific type of metal band, but "Darkly, Darkly, Venus Aversa" showcases all of their styles in one album.
The album's opening track, "The Cult of Venus Aversa," starts with a piano synth and a female voice-over, making a statement to the listener that this will be an orchestral tale that only Cradle of Filth can tell. Recently added Ashley Ellyllon's keyboard playing is a welcome addition throughout the album, giving a classical feel that still confirms to the idea of being a metal band. Dani Filth's vocals are a main reason people are turned off by Cradle of Filth, but he has one of the most interesting voices in the metal music scene. His mix of grunting to outright screaming at the top of his lungs, makes hairs stand on end and keeps fans coming back for more. Dani is also the lyrical powerhouse that helps fuel this band to greatness. Filth paints a dark picture with his knowledge of historical events and folklore. Paul Allender and James Mcllroy use their guitar skills to the best of their ability, and it is instantly recognized on this album. Both work together and, at times, play off of each other to keep that constant thrash metal feel throughout the album. All the entities, great in their own respect, work well together and fit perfectly to make a great metal album.
"Darkly, Darkly, Venus Aversa" is a dark gothic tale that only Cradle of Filth could compile and produce. Although many are turned off by metal music, the genre holds its own and can compete with mainstream music, as shown with Cradle of Filth's Grammy nomination in 2005 for the song "Nymphetamine." "Darkly, Darkly, Venus Aversa" is a great metal album that showcases Cradle of Filth's roots and how far they have come in their 19-year career.