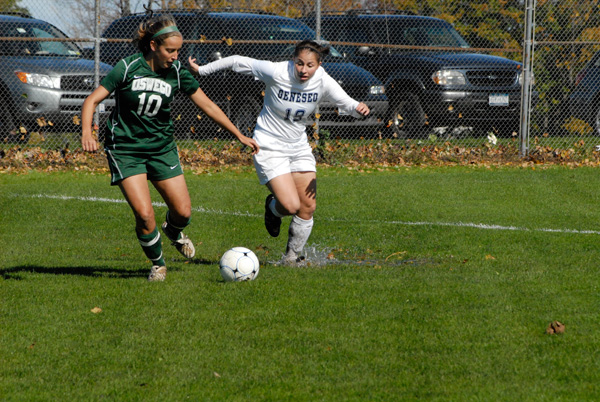 The Oswego State women's soccer team picked up one win in a weekend split against SUNY Brockport and SUNY Geneseo, but it wasn't enough as they were officially eliminated from playoff contention. The Lakers dropped to 1-6 in SUNYAC play and 6-9 overall.
"It's just extremely disappointing when you come into this [weekend)]knowing you need the next four, and every game is just as big as the last, and you come out and give this effort," coach Brian McGrane said. "It's really unacceptable. That comes from leadership and heart, and people willing to sacrifice."
On Friday, Oswego State exploded for four goals in a 4-0 shutout against visiting Brockport, picking up its first conference win despite miserable playing conditions. The Lakers pulled ahead in the 17th minute when Golden Eagle goalkeeper Erin Asquith came charging toward junior midfielder Alexa Krebs, who played a soft touch pass to senior midfielder Liz Miller, who finished into an open net. Oswego State held a 7-3 shots on goal margin in the first half, but converted just one marker for the 1-0 halftime lead.
The tides turned in the second half, as the Lakers had three shots on net, all of which resulted in goals. Meanwhile, they held the Golden Eagle offense without a shot on Laker goalkeeper Toby Klein. In the 52nd minute, freshman forward Nikki Liadka played a perfect through ball up the right sideline to sophomore forward Shelly Bateman who lasered a cross to the feet of sophomore forward Laura Ambron at the left post. Ambron one-timed it past Asquith into the right side of the net.
As the game dwindled on, Brockport began to send extra numbers forward, resulting in opportune counterattack chances for Oswego State. In the 80th minute, Bateman intercepted a pass and dribbled by a defender resulting in a one-on-one with Asquith, who was forced to come out, allowing Bateman to finish for the 3-0 lead. The Lakers added an extra insurance goal in the 87th minute when Ambron tore up the left side of the field on a breakaway for her second goal of the game.
Oswego State's third-leading goal scorer from a year ago, Ambron, missed the first nine games of the season due to injury. McGrane said it was great to have his captain back on the field.
"It's huge," McGrane said. "She's started her freshman and sophomore year almost every game, and then [without] her it has been tough. It's nice to have her on the board, and get her mind going offensively again."
McGrane said starting goalkeeper Christina Fregosi was out for the weekend due to strep throat, but Klein stepped in admirably making three saves and several other key plays in her first shutout in goal since Oct. 24, 2007. Asquith finished with six saves in net for Brockport.
Saturday proved to be a completely different story for the Lakers offense in a 3-1 loss to visiting Geneseo. The Blue Knights mounted an early lead in the 17th minute when Emily Novak corralled a loose ball in the center of the field. She threaded a through ball up the middle to Kelly Bergin who finished past the outstretched fingertips of Klein. Olivia Panepinto increased the Blue Knights' lead in the 26th minute when she controlled a loose ball and flicked it over Klein into the top of the net, resulting in a 2-0 halftime lead.
"I didn't think Geneseo did anything out of the ordinary other than just their effort and energy were just that much better than ours," McGrane said.
Geneseo continued to pour on the attack in the 51st minute when Ashley Keogh played a free kick into traffic in the middle of the box. Anne Beinetti tapped a pass to Bre Glynn who converted into the empty net for a decisive 3-0 Geneseo lead.
"Right now it's a pretty sour feeling," McGrane said. "Mentally, we're good for a day and bad for another. In this conference you can't do that."
The Lakers were unable to mount much of an attack throughout the game, but finally cashed in in the 88th minute when freshman midfielder Allegra Uva fed Krebs for a one-timer into the open net. Klein finished with five saves in net for Oswego State, and Katie Clerkin made three stops for Geneseo.
A disappointed Ambron reflected on what the team did well Friday in the 4-0 win and what they did not do Saturday in a 3-1 loss.
"We were ready to go, we wanted it more, played with heart, we played together, we were cheering each other on from the start," Ambron said. "This game [Saturday], our heads weren't in it. We weren't mentally there."
The top six teams make the conference playoffs and the Lakers currently sit in ninth place, two games out of the playoff picture with as many games to play. Even with two wins next weekend, the head-to-head loss with Geneseo Saturday leaves Oswego State out of the playoffs.
The Lakers play the role of spoiler as they host SUNY New Paltz Friday at 3 p.m.