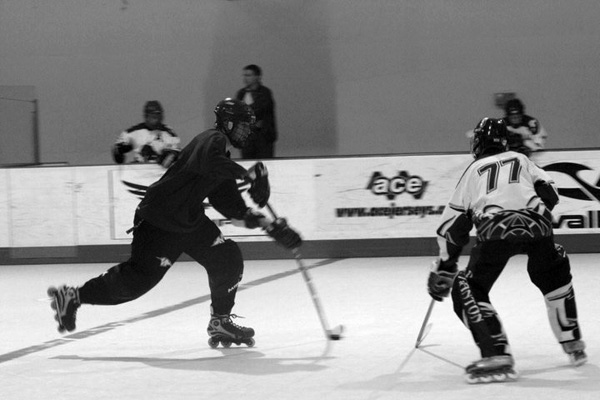 Oswego State has a new hockey team, but this team doesn't play on an icy surface like its varsity and club hockey predecessors.
No, this team plays on a dry surface and begins its inaugural season hoping to capture both respect and support from the student body.
The Oswego State men's roller hockey team dropped the puck on its season this past weekend in Feasterville, Penn. in an exhibition tournament. The team fared well in their first tournament together, going 2-0-1. After scoring two late goals in a 4-4 tie with Ramapo College, the Lakers defeated Scranton University, 8-5, and Loyola University, 7-4.
The early success has team president and forward Nick Wojton excited about the season.
"We think we're going to be pretty successful and we'd like the student body to know more about us," Wojton said.
The roller hockey team plays in the Eastern Collegiate Roller Hockey Association (ECRHA) along with nine other teams. Teams in the Division III conference are: SUNY Cortland, Lehigh College, Queens University, UMass-Amherst University, Ithaca College, Syracuse University, Ramapo and Scranton. Cortland is the reigning regular season and postseason champion of the division.
Wojton's motivation to create a roller hockey team on campus came from his brother, who created the roller hockey club at SUNY Brockport back in 1999 when he was a student. The Golden Eagles are a Division I team that plays in the Central division along with the University of Buffalo, Penn State University, Towson University and the University of Temple.
The Oswego State roster boasts 16 players, including eight forwards, seven defensemen and one goalie. One defensemen, James Schunk, is an Oswego native. Three players on the roster played together in Washingtonville, N.Y., while two others played together in Cortlandt Manor, N.Y. and Darien, Penn.
A few players on the team originally tried out for the club hockey team but didn't make the roster. Wojton was able to get a couple of their names from Jay Peacock, the club hockey coach, and found out that some of those players were interested in playing roller hockey. The remainder of the roster was made up of players who saw the interest posters hanging around campus. The interest in joining the team was so great that they were forced to hold tryouts and make a few cuts to trim the roster to 16 players.
The road to getting Oswego State its own roller hockey team was not an easy one.
"We are run basically out of our own pockets," Wojton said. "We don't get a ton of funding. We have to buy our own nets, balls and other equipment."
Each player on the team had to pay about $206 for tournament fees. The fee to play in the ECRHA is $3,300. According to Wojton, the money they have to pay isn't too bad compared to the club hockey team, who have to pay $600 each even though the school pays for their ice time.
Before the university could recognize the roller hockey team as an official club, paperwork had to be approved by the Student Association and the necessary insurance coverage had to be approved. The process took just two weeks to complete and the team was able to compete in the exhibition tournament, something Wojton wasn't sure was going to happen at first.
"It was a little surreal just for the fact that there was so much work and it was rushed so much and took so much effort to just get players and everything else," Wojton said. "Just to be there, it was surreal to accomplish."
The team practices in Swetman Gymnasium and doesn't have a home venue. Instead, its season consists of a series of tournaments over the course of the fall and winter. Tournaments are held in places like Feasterville, Penn. (just outside of Philadelphia) and Long Island, N.Y. amongst other places. The season consists of playing three to four games a weekend, totaling around 18 games for the regular season.
The game of roller hockey is much different than the game of ice hockey that the student body has come to know and love. Roller hockey is played 4-on-4, allowing for more space and passing lanes. There is also no icing and offsides in roller hockey, keeping the game at a fast pace at all times except for when a goalie freezes the puck or a goal is scored.
In their inaugural season, Wojton and the rest of the roller hockey team hope to make an impression on the university.
"We would love to be competitive," Wojton said. "We've all played hockey forever. I can't say there's one player on the team where playing hockey isn't their passion. We want to do well and we want to represent Oswego right."
The Lakers travel back to Feasterville, Penn on the weekend of Nov. 5 for their first regular season tournament.