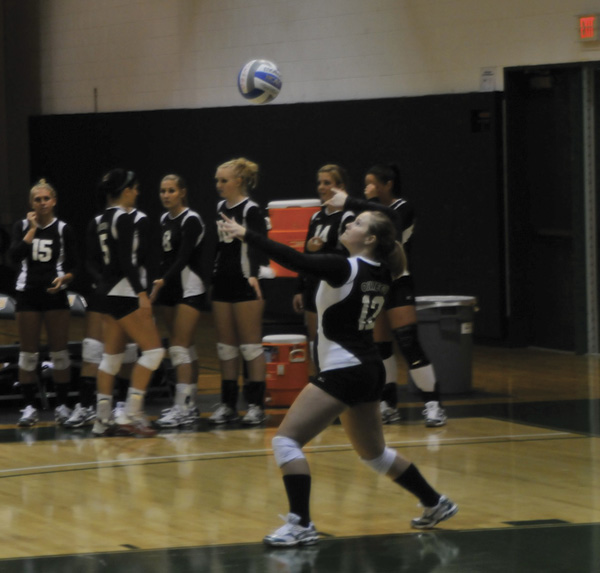 A volleyball court is not that big-, as it has a 30-foot width and 60-foot length, but to Oswego State women's volleyball captain Rachel Rossi, that is just enough to keep her mind free.
Rossi started playing the sport in seventh grade when her middle school in the Waverly School District introduced the game of volleyball to its students.
"All the seventh-grade girls wanted to play volleyball," Rossi said.
By the eighth grade, she had moved up to junior varsity and as a freshman she was already on the varsity squad.
"It was great to finally have found something I'm good at," Rossi said.
Her junior year in high school proved to be her most challenging. She had already been involved on a traveling volleyball team when she found out that her mother, Lori Rossi, was diagnosed with breast cancer. Nine months later, her grandmother, Flo Vernon, was also diagnosed.
"It was a hard time sports-wise, traveling-wise and being away for volleyball," Rossi said. "It affected my game. Seeing my dad by himself at the games and thinking this is how it could be. That was hard."
When times got tough, being on the volleyball court was, and still is, a coping mechanism for Rossi.
"Volleyball has always been my escape," Rossi said. "It makes me a better player. It's more heartfelt. Almost like a bigger reason to play other than myself."
Just when everything was going well for Rossi, she found out that her mother and grandmother had cancer for a second time. Rossi looked to her teammates for support.
"My teammates are like family," Rossi said. "It's so easy to turn to them."
Given the tough problems at home, Rossi contemplated taking a semester off. Having a strong support system behind her was key for her return to the volleyball team.
"They're there for me," Rachel said. "[They are] Supportive to me, they listened to everything I'd tell them and were just compassionate. They all love my mother."
The month of October is one mixed with emotions for Rossi. It brings back the memories of the incidents she went through in dealing with her mother's and grandmother's rough times, but it also shows the support that a community, state and nation can provide.
"October is my favorite month," she said. "For good reasons and bad, but I was driving down Bridge Street and saw a furniture store with pink ribbons painted on the windows. It makes me so happy."
It is hard to believe on top of some misfortunes during the past few years her career as a Laker is winding down. Just like every athlete, Rossi has battled back through the rough times with a positive attitude to achieve a successful career.
The volleyball court was a place Rossi could forget about all the hurdles life had thrown at her. She will miss her friends, no question, but she has not really thought about stepping off the court for good.
"I've never really thought about it," Rossi said. "I've played volleyball since seventh grade and it's been a great run. It's played a huge part in my life. I've met so many people and 50 years from now I'll look back and be happy with the people I met along the way."