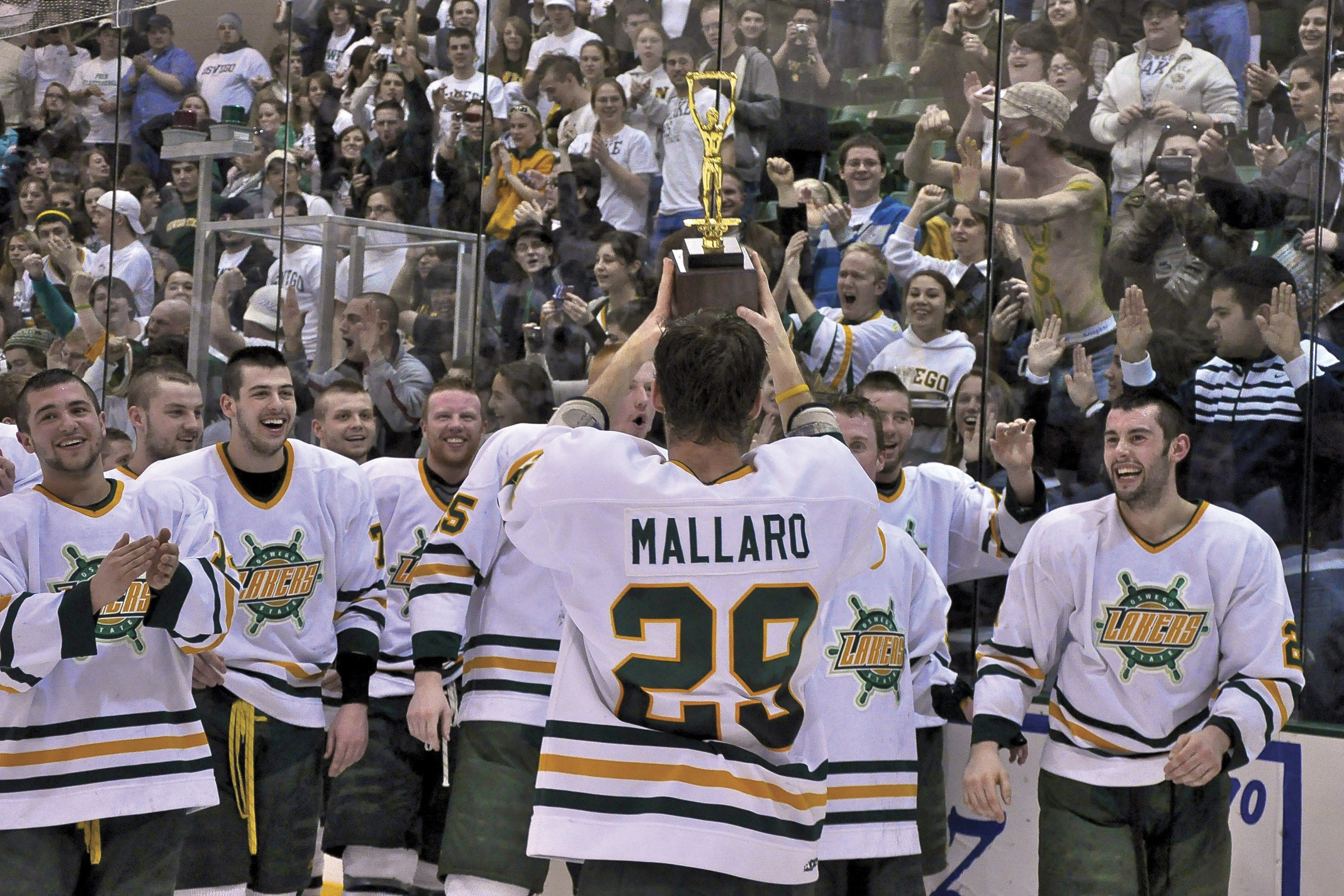 Last season, the Oswego State men's ice hockey team made an unexpected run toward its second national championship in program history, coming up short in the NCAA Semifinal against St. Norbert.
Despite the last-second defeat to the Green Knights, the Lakers went 26-3-0 overall and 15-1-0 in SUNYAC play, capturing their first SUNYAC title since 2003. The Lakers defeated archrival SUNY Plattsburgh in all three meetings, including a 6-3 victory over the Cardinals in the SUNYAC final.
Head coach Ed Gosek returns to the bench for his eighth season in hopes of capturing his second national championship with the team. In his eight seasons, Gosek has compiled a 140-42-14 record, including four regular season conference titles, one postseason conference title, two Frozen Four appearances and one national championship title.
A year after losing 13 seniors to graduation, Oswego State lost just five players from last year's team. Seniors Neil Musselwhite, Brad Dormiedy, Tyler Lyon and Kyle Gunn-Taylor, along with sophomore Eric Selleck will not return to the team this year, leaving a major hole in point production. Selleck, who led the team and the conference in scoring, forfeited his final two years of eligibility to sign a two-year, two-way contract with the Florida Panthers organization. The Lakers lost nearly 50 percent of last year's scoring with the departure of the four seniors and Selleck.
"It's a big loss from the leadership standpoint and point production," Gosek said.
This year's team will be captained by senior defenseman Kevin Huinink, with senior forward Chris Laganiere and senior defenseman Stephen Mallaro serving as the team's assistant captains. Last year, Huinink and Mallaro were part of a defense that allowed only 2.03 goals per game. Huinink contributed to the offense as well, totaling 10 points with three goals and seven assists. Mallaro registered 17 points on seven goals and 10 assists. Laganiere finished third on the team in scoring last season behind Selleck and senior forward Justin Fox. Laganiere finished the season with 46 points with 16 goals and 30 assists.
Other key returners for the Lakers are Fox, sophomore forward Jon Whitelaw, who was named the SUNYAC Rookie of the Year last season, senior forward Owen Kelly and junior goalie Paul Beckwith, who is expected to start the season in net.
"Some don't wear a letter but that doesn't mean that we don't expect them to lead through hard work, determination and character," Gosek said.
To fill the void in the roster left by the five departing players, three freshmen and two transfers have been recruited for the 2010-11 season. The two transfers are senior forward Dan Bremner from Mercyhurst College and junior forward Ian Boots from Ohio State. Bremner totaled 25 points on nine goals and 16 assists in 70 games with the Mercyhurst Lakers. Boots played in 50 games with the Buckeyes, tallying 29 points on 10 goals and 19 assists. The three freshmen are forwards David Titanic, Kyle Badham and Corey Domenico. Titanic played one year with the Toronto Jr. Canadiens and two years with the Markham Waxers of the Ontario Junior Hockey League (OJHL). During his three years in the OJHL, Titanic played 142 games, compiling 133 points on 46 goals and 87 assists. Badham played four years in the OJHL, one with the Bramalea Blues and three with the Oakville Blades. In 198 games, Badham registered 124 points on 40 goals and 84 assists. Domenico played three years in the Central Junior Hockey League (CJHL) with the Nepean Raiders, tallying 147 points on 68 goals and 79 assists in 209 games.
With the departure of Gunn-Taylor, the starting goalie job is Beckwith's, much like at the beginning of last season. Beckwith started the first four games, tallying a 3-1-0 record before getting sick prior to weekend games at SUNY Potsdam and Plattsburgh. With backup goalie Dan Jones not having any collegiate game experience, the job appears to be Beckwith's for the entire season. Gosek believes that Beckwith's performance will be a deciding factor in how far the team goes this season.
"You can have a great team but without the goaltending, we're not going anywhere," Gosek said. "If one of our goalies is 92, 93, 94 save percentage, we'll be right there at the end again. If we don't, it's going to be a struggle to get very far in the playoffs."
Last year, Gunn-Taylor had a .913 save percentage in 21 games while Beckwith had a .928 save percentage in 10 games.
Much like last year, the Oswego State schedule features many high quality opponents. The Lakers will play a home and home with Elmira to start the season. Other non-conference teams include Hamilton, Hobart, Utica (twice), Skidmore and Curry. Elmira defeated the Lakers last season at the Murray Athletic Center during in second part of a home and home series.
Making the schedule even more difficult is the SUNYAC, which is becoming more competitive every year. Although the team went 15-1-0 in conference play last season, they were tested on many occasions. SUNY Morrisville jumped out to a three-goal lead in the SUNYAC semifinal at the Campus Center Ice Arena before the Lakers rallied to an 8-5 win. The only blemish in SUNYAC play was against SUNY Geneseo on Senior Night. The Ice Knights defeated the Lakers 3-1 in front of a sold out Ira S. Wilson Arena.
"That loss in their building wasn't a fluke," Gosek said. "They played extremely well. They played as well as any team that played against us last year. People were looking for an excuse from us; I had no excuses."
The SUNYAC proved to be a strong conference last season, compiling the third highest winning percentage in inter-conference play. In 83 games against teams from other conferences, the SUNYAC finished 46-31-6 for a .590 winning percentage. Only the NESCAC (.667 winning percentage) and the NCHA (.745 winning percentage) had higher winning percentages.
The Lakers were 9-2 on the road and 2-1 at neutral sites, but they were unbeatable at the Campus Center Ice Arena, going 17-0-0. The fan base was a major factor, averaging 2,313 fans per game, which was second most in D-III behind Utica's 2,791 fans per game. Home ice proved to be beneficial in helping the Lakers secure home ice in the SUNYAC playoffs and the quarterfinal round of the NCAA tournament.
"Our first priority is to position ourselves for home ice in the playoffs," Gosek said. "If you can get yourself in that position to take advantage of home ice in our league playoffs then you're giving yourself a legitimate shot at making the NCAA tournament."
Gosek understands that the Lakers will have a large target on their back coming into the season after advancing to the Frozen Four last season. However, Gosek said that the team's preparations will not change.
"Over the years we've clearly learned that you don't take any shortcuts," Gosek said. "You prepare with your practices, with your video, with your player meetings, with all of the things all season long as if you're preparing for that game against St. Norbert in the semifinals."
The Lakers open their season on Saturday, Oct. 16 against the Bradford Rattlers All-Star Team in an exhibtion game at the Campus Center Ice Arena. Oswego State opens their regular season on Friday, Oct. 22 at home against Elmira College.