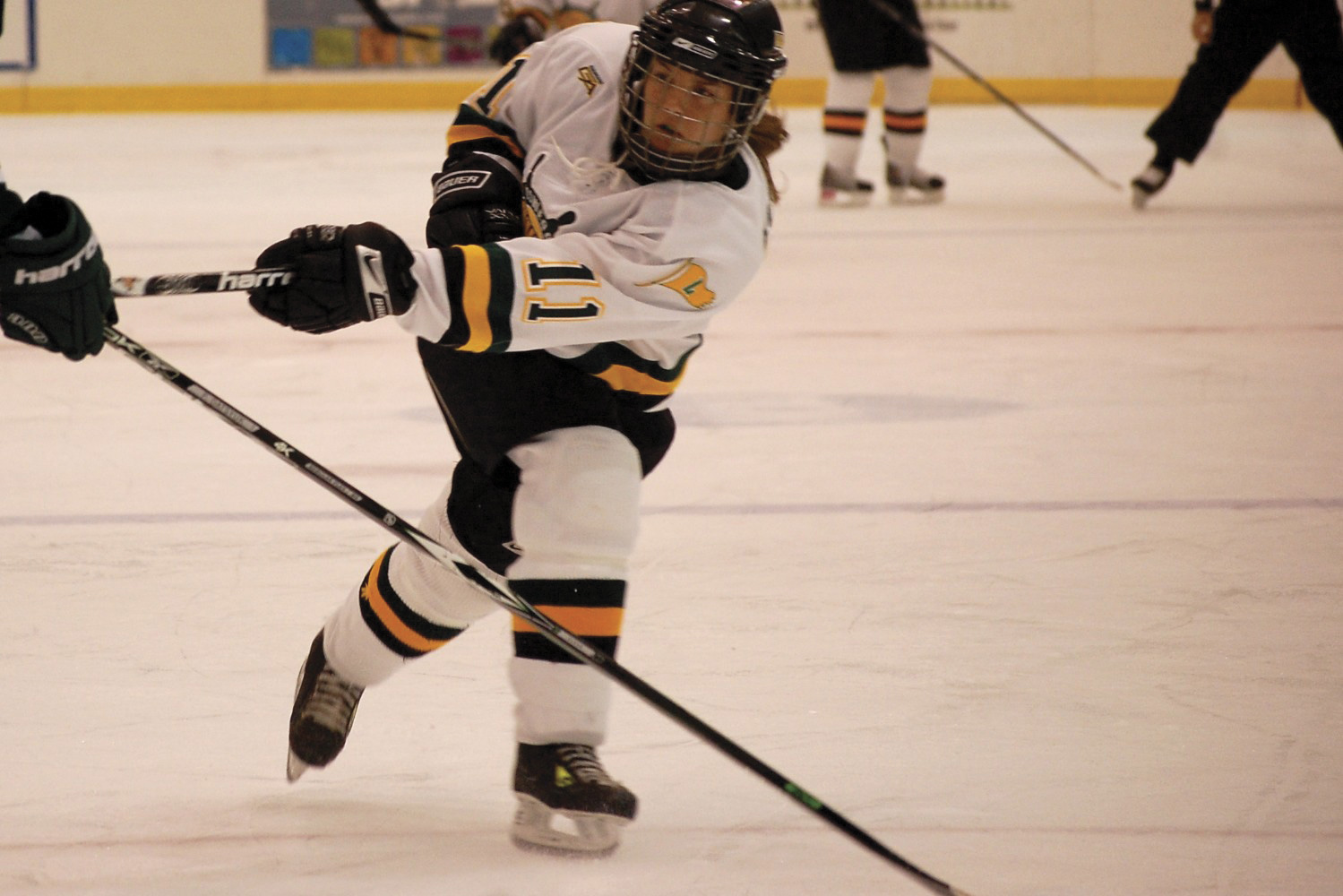 This year the Oswego State women's ice hockey team begins its fifth year as a program, looking to bring more attention to the sport.
After a trying season last year, where the team saw both exciting wins and devastating losses, the Lakers are looking forward to making this year a success in terms of wins and team development. The first few years of the program were certainly a challenge as far as growth, but now that the women's team has seen its first freshman graduate, they are in a much better place to achieve success.
"This next four to five years is really about becoming a much better hockey club," Coach Diane Dillon said. "Now we have established what Laker hockey is all about for us and what our expectations are."
This year, 11 new players are joining the team, which brings both new talent and a base of youth to grow with.
"It certainly is going to foster a better competition on the ice and a better work ethic for all of us," Dillon. "They are very talented kids who we went after for very specific reasons. We brought in a goalie who is very quick, we brought in speed up front and we brought in some size."
This brings exciting new possibilities for the team.
"With 11 new players out of a roster of 25, the dynamics in [the locker room] have changed tremendously," Dillon said. "When we work together as a unit we are extremely effective and I think that's what is going to be the key for our team this year."
"I think as much as it's going to be a difficult transistion for the team, once we've made it, it's going to benefit us so much," said team captain Kathryn Sbrocchi.
As far as individuals on the team, the senior class will play a big role in the leadership and success of the team.
"I think they bring that voice of reason and experience and with so many new players I think it's important that they have those people to look up to," Dillon said.
Emi Williams, one of the top goalies in the league and the team's MVP the past three seasons, has a lot of pressure on her shoulders. However, Dillon has confidence in her goalie.
"She makes us competitive every single time," Dillon said.
On defense, Meagan Big Snake, who missed last season to take part in the torch bearing for Vancouver's 2010 Winter Olympics, is eager to get back on the ice for Oswego State. Defender Natalie Rossi and Brenna Weber will also be looked at to have strong seasons, as both are hard working and solid players.
Emily Grippin, at 4'11", was described as "a speedy little forward who had a great year last year" by her coach. Last year she played in almost every situation, from the power play to the penalty kill, and now with so many talented new forwards on the roster, Grippin's workload on the ice will lessen. Sarah Hannon, another senior forward with a lot of playing experience, will serve as a good mentor for the freshmen, according to Dillon.
"I think [the seniors] are really the key, with so many new faces in the locker room," Dillon said. "It's important that they all gel together, and I think the seniors and the captains have done a very good job at that already."
Dillon also touched upon the sharp differences between women and men in terms of sports and how the team dynamic strongly plays into it.
"Somebody said to me once that boys are happy when they win, girls have to be happy in order to win, and I think that is very true," Dillon said. "You can play on an excellent team, but if the locker room is in chaos, it's not going to happen."
Last season, the team missed the playoffs by just one point. This resonated pretty strongly with the players who are now hungry to come back this year with a vengeance.
"They have been working harder from day one," Dillon said. "They worked harder over the summer. They left last season determined. We had some firsts last season, like knocking off Utica; we had never done that before I really think we are poised to be better prepared from the beginning than we ever have been."
The women's hockey team plays in the ECAC West, unlike all the other athletic teams at Oswego State, who compete in the SUNYAC. There are not enough women's ice hockey programs in the SUNY system for there to be a SUNYAC league. The ECAC conference is loaded with tough competition. The Laker team faces top-ranked teams like Elmira, SUNY Plattsburgh and RIT.
"In terms of generating success against them, I think it's our own mindset," Dillon said.
The team plays their home opener against the reigning ECAC West champion, Elmira, a team who beat them twice last year, the second time in a 9-0 shutout. This year, however, the team is more prepared to face them.
"Are they a tough team? Yes, but I think with the addition of some speed up front, a little more hockey savvy and the experience of our returners, we have a really healthy combination to be prepared for those better teams," Dillon said.
According to Dillon, participating in the ECAC West is fantastic. The competitive nature of the conference encourages the improvement of the Oswego State team.
"It's arguably the toughest division in all of women's Division III hockey," Dillon said.
As far as predictions for the coming season, Dillon has high hopes for her squad.
"I think we are going to fare much better in the conference and that is the key to making the playoffs," Dillon said. "I think we are going to be a much tougher opponent to play against."
The top teams in the conference, Elmira, RIT and Plattsburgh, will always be a challenge. The team expects to play much better against them this year than in past years. The middle of the road teams, such as Utica and Neumann, are the games that the Lakers now expect to win.
"It's going to be interesting this year because I think the dynamics of a lot of teams are going to be changing," Sbrocchi said.
"What I am looking for this season is to separate from the lower half of the division and be a contender for that fourth or third spot," Dillon said. "I am really looking for us to score some more goals and play a more exciting brand of hockey."
Now that the team has more speed and more size these goals are very possible. The ultimate goal is to make the playoffs and with all the competition the team's schedule brings, this will not be easy, but is certainly attainable.
Oswego State opens its season on the road against Adrian College on Friday, Oct. 29, and hosts Elmira on Saturday, Nov. 6.