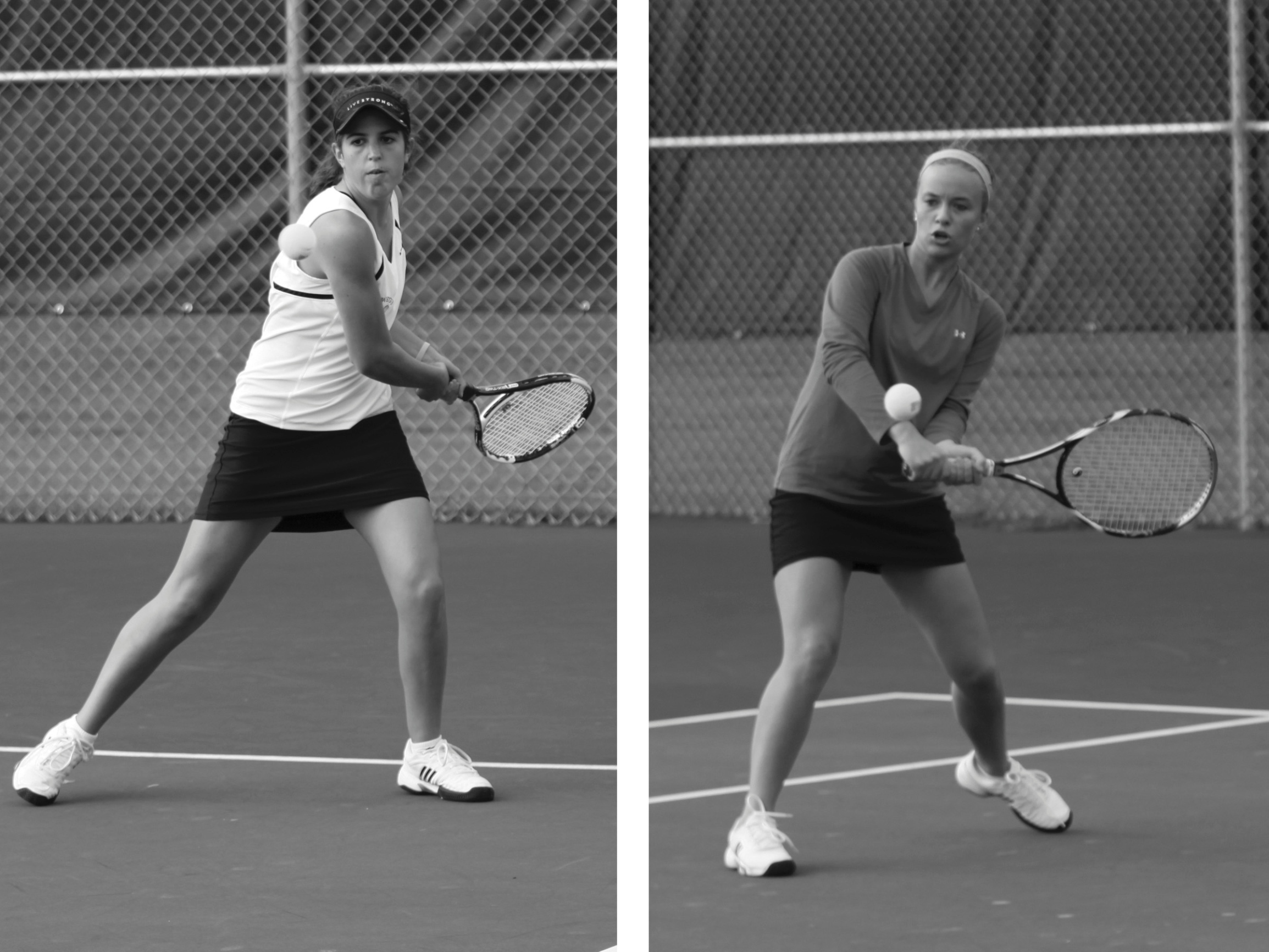 During doubles matches at Romney courts, the duo is easy to spot. In stature, they could both easily be classified as short, as neither player stands higher than 5 feet 3 inches tall. The next thing a spectator might notice is their sporadic laughter and never-ending smiles. The pair brings an attitude to the court that any tennis player would envy.
"Neither of us gets mad," Nicole Leader said. "We just kind of laugh at each other."
Leader and fellow freshman Lauren MacHose have earned big roles on the Oswego State women's tennis team this year. By the end of the season, the two had claimed the top two singles spots and accompanied No. 1 doubles.
The two freshmen took the team by storm, but without big egos. They joined a young group of Laker tennis players and instantly fit in. Coach Erin Skaradek knew almost instantly that their talent was not in question.
"As soon as they picked up their rackets and started hitting groundstrokes, I knew they were going to be up high on the ladder," Skaradek said.
Both girls aren't far from home, as MacHose relocated from Cazenovia and Leader made the trip from Baldwinsville. Each player had four years of varsity tennis under their belt when they graduated high school. MacHose was a two-time First Team All-League selection as a Cazenovia Laker. Leader made state qualifiers at No. 1 doubles her senior year, but that was not her most fond memory of high school tennis.
"Beating Fayetteville-Manlius twice in one week after I had never beaten them before was most memorable for me," Leader said. "One win was in the regular season and the other was in individual sectionals."
The Fayetteville-Manlius Hornets girl's tennis team has not been defeated since 1993. Leader played No. 1 doubles on a Bees team that nearly ended their improbable run, but narrowly dropped a 4-3 decision.
Leader and MacHose got their first taste of collegiate tennis on Sept. 7, when they took the court for No. 1 doubles. Unfortunately, that match would be played against last year's top-seeded doubles team from SUNY New Paltz.
"We heard all these things about how good they are," MacHose said. "We ended up losing 8-4, but not a lot of teams were able to do that well against them."
The Hawks went on to win the SUNYAC Championships and the team of Stephanie Schara and Lindsey Garyn that the Oswego State twosome lost to claimed the No. 1 doubles flight without dropping a set.
The two continued to play together throughout the season, earning two wins at the top tier of doubles and consistently providing a challenge to the opposing teams with many close matches.
"I think in the beginning we were a little weary because I haven't played doubles since my sophomore year [of high school]," MacHose said. "As the season went on, we built a relationship on the court."
"When I saw them hit, I had the feeling they'd make a good doubles team," Skaradek said. "Knowing that they're both freshmen made me a little worried because they felt added pressure."
Leader and MacHose always found themselves laughing during matches and practices. Enjoying the sport came easy, but for MacHose keeping track of points did not.
"I always had to keep score, even when she was serving," Leader said. "She would come up and whisper to me asking what it was."
Each player has a different style on the court. While Leader likes to attack her shots and get to net, MacHose prefers to stay on the baseline and wear down an opponent with her placement and consistency. One thing they share is their preference for singles over doubles. Both players claimed three wins in singles with MacHose playing No. 1 singles and Leader splitting time between No. 2 and No. 3 singles.
Leader won two of her first three matches after moving to second singles late in the season, showing renewed confidence against tougher opponents.
"I like playing against people who hit harder," Leader said. "There was more competition at second singles and it made me hit harder and play better."
"Nicole will do anything that I ask her to," Skaradek said. "She'd accept any type of challenge I throw at her. She tries different strategies to beat people. She's versatile and very coachable."
At the SUNYAC Championships last weekend, MacHose and Leader pushed Brockport to three sets, but couldn't claim the win and bowed out in the first round. Leader drew the No. 1 seed and eventual champion from Geneseo at No. 2 singles and was unable to pull off an upset. MacHose matched up against a Fredonia player she had lost to in a supertiebreaker during the regular season and was again defeated in three hard-fought sets.
"Lauren continually plays hard," Skaradek said. "She doesn't give up on points. She always wants to know more about her opponent and takes criticism very well."
"We got a compliment at the SUNYAC tournament," Skaradek said. "The girls on this team are talented. We're just young right now. Those two make me really excited for next year. With what they can do now, who knows what they're going to be doing when they're seniors."
Hopefully they'll still be sharing a double court…and smiling.