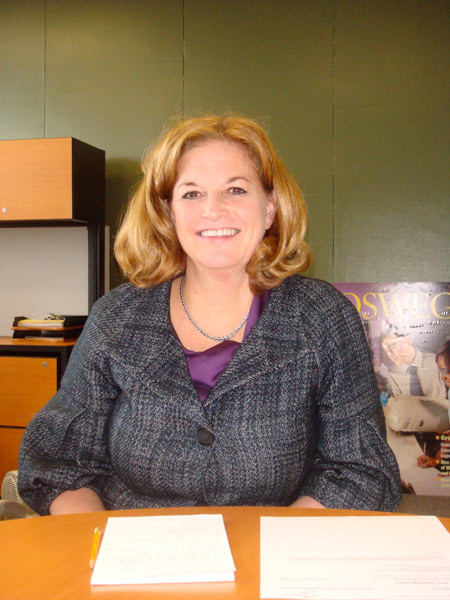 Susan Coultrap-McQuin, the former provost and vice president for Academic Affairs of Oswego State, left her position over the summer and was replaced by interim Lorrie Clemo.
Coultrap-McQuin held her former position of provost for six years, leaving the position to work on special projects, according to Howard Gordon, executive assistant to President Deborah Stanley.
Clemo, previously the chief of staff for Stanley, described the transition as smooth and said the policies Coultrap-McQuin put in place helped to keep everything organized during an otherwise hectic transition. The most difficult part of the transition was the scheduling.
"You sort of lose control of your own calendar," Clemo said.
Gordon said the transition worked well and that the office seems to be picking up where it left off.
With this position comes the responsibility of supervising much of the college's departments and regular functions. The primary responsibility is to guide the academic agenda, and then oversee its implementation, said Clemo. Other duties include speaking to the community on behalf of the college, overseeing academic research, making grants available, tenure and salary adjustments and meeting regularly with 18 heads of different departments, among other tasks.
"I work collaboratively with the other vice presidents to make sure academic goals of the institution are aligned with the university mission," Clemo said.
Clemo is already working on several new initiatives. She met with the academic chairs to define values of the college. Then discussed what to keep, and with the values that remained, how they could strengthen them.
Strengthening undergrad scholarly and creative activities is a main focus for Clemo. Exploring different models of learning and giving students more one-on-one time with professors are two objectives that Clemo will employ.
Clemo said the position of provost is the best job on campus. She finds it rewarding to work on so many areas of the college, and she loves working with students and faculty.
"Academics is our mission, it's the core of what we do," Clemo said.